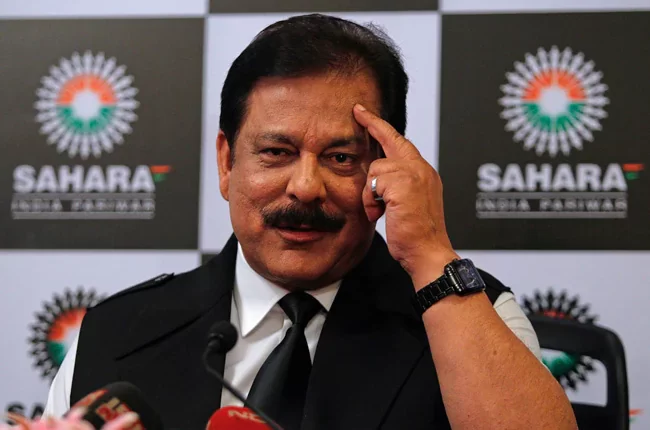 Mumbai: Sahara India group founder Subrata Roy, who had been battling multiple health issues, passed away at a private hospital in Mumbai late on Tuesday due to a cardiorespiratory arrest. He was 75.
"It is with profound sadness that Sahara India Pariwar [group] informs the demise of our Hon'ble 'Saharasri' Subrata Roy Sahara. Saharasri ji an inspirational leader and visionary, passed away on 14th November 2023 at 10.30 pm due to cardiorespiratory arrest following an extended battle with complications arising from metastatic malignancy, hypertension, and diabetes. He was admitted to the Kokilaben Dhirubhai Ambani Hospital & Medical Research Institute (KDAH) in Mumbai on November 12 following a decline in health," Sahara India Group said in a statement.
"His loss will be deeply felt by the entire Sahara India Pariwar. Saharasri ji was a guiding force, a mentor, and a source of inspiration for all who had the privilege of working alongside him," the group said.
"Details regarding the last rites will be communicated in due course," it added.
He is survived by his wife, son, and brother.
Roy was the founder and chairman of the Sahara India Pariwar, a conglomerate with diversified business interests. He began in 1978 initially venturing into transport and courier sector and then swiftly expanding to diverse fields, including finance, aviation, media, and infrastructure.
In the 2000s, the group made international headlines with the acquisition of iconic properties such as London's Grosvenor House Hotel and New York City's Plaza Hotel.
Sahara was once hailed by Time magazine as the second-largest employer in India after Indian Railways, boasting a workforce of around 1.2 million people. It had also sponsored the India's national cricket team.
In 2012, Roy became one of India's 10 most powerful people.
He took the conglomerate to dizzying heights before facing accusations of enticing poor investors into a pyramid scheme. The group got tangled in a legal battle with market regulator SEBI over repaying billions of dollars to investors who put their money in a bond scheme that was later found to be illegal. In 2014, the Supreme Court ordered Roy's detention for failing to appear in court in connection with the dispute and he had to spend more than a year in jail before being released on parole in 2016.
In 2019, Sahara Group announced its plan to foray into the electric vehicle business under a new brand name 'Sahara Evols'.  It also entered the online education sector with Edunguru, targeting small towns and villages.
In 2020, Roy again grabbed spotlight over Netflix's controversial docu-series Bad Boy Billionaires on the rise and fall of India's most infamous business tycoons.