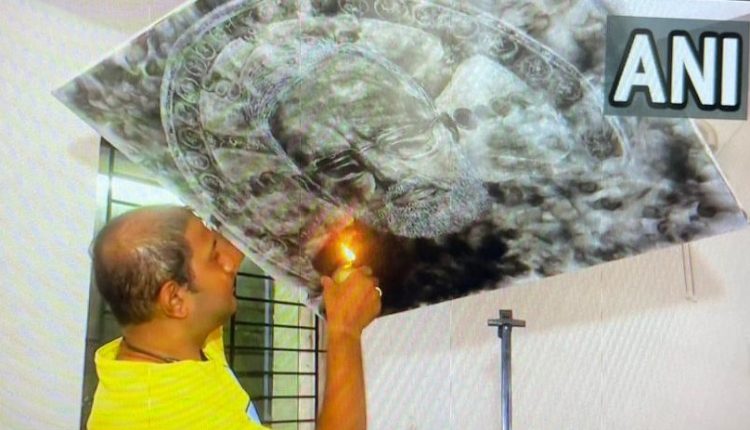 Bhubaneswar: Cuttack-based smoke artist Deepak Biswal has created a portrait of Prime Minister Narendra Modi on his 73rd birthday. The artwork also depicts Odisha's magnificent heritage with an exquisite representation of the wheel from the Sun Temple in Konark in the background.
Notably, the iconic Konark wheel of Odisha was also used as the backdrop by PM Modi as he greeted world leaders and delegates at a presidential dinner in the national capital during the recent G20 Summit.
"I have created a smoke portrait of Prime Minister Narendra Modi to wish him on his 73rd birthday. In the portrait, I have also depicted the Konark wheel, which represents Odisha's magnificent culture and heritage. As we are aware, the Konark wheel was used as a backdrop by PM Modi as he welcomed world leaders and delegates at the G20 dinner. It was a matter of pride for us," Biswal told ANI
The artist said he uses the smoke of a candle, a needle (or an old pen nib) and a canvas to create his artwork.
Odisha sand artist Sudarsan Pattnaik has also created sand art in his unique style at the Puri beach to honour PM Modi on his birthday.
In Pune, BJP worker Kishor Tarwade has crafted PM Modi's portrait using grains and millets. He told ANI, "The size of the portrait is 10X18 feet and was made from about 60 kg of grains such as wheat, lentils and millets (Jawar, Raagi). The portrait will be on display from September 16 to September 18 at the Budhwar Peth area of Pune city in Kalika Mata Mandir Bhavan. No fee will be charged for seeing it while it is on display."
Wheat, til, masoor daal, hari moong daal, jawar raagi, toor daal, and sarso were also used to make the portrait.