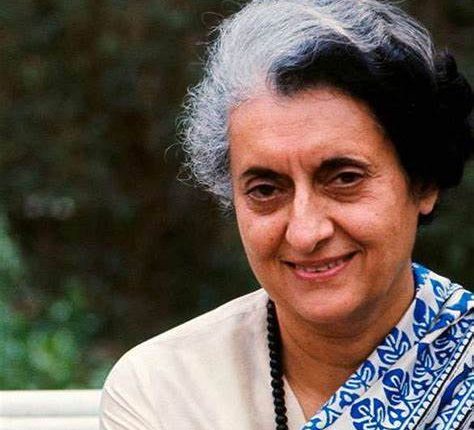 Bhubaneswar: Seated with her hair parted into two streaks of salt and pepper and her characteristic calming gaze, Indira Gandhi poises herself for what would turn out to be her last interview. "I was born into politics. Politics was not a career, it was part of a movement for freedom. It absorbed all one's being. Everything I was interested in, including literature and poetry, had to do with either our own freedom struggle or those of other countries," she concluded with a smile.
The video, which is available on YouTube, is one of the many archival footage of India's first female prime minister, where she is seen representing the country and answering difficult questions with a strong sense of dignity. India was going through one of its toughest period when Gandhi was elected to office in the 1960s. The country was still recuperating from the aftermath of the Sino-Indian War. The 1966 monsoon failure had caused a 20% drop in agricultural output, surging the inflation rate in food prices. During this catastrophic period, aid provided by the UN was paltry because of Gandhi's critical stance on the Vietnam War. But Gandhi was not one to stoop to imperial power. She decided to create a self-sufficient India by kickstarting the Green Revolution and distributing subsidies to small farmers.
Through a concerted effort by Indian policy makers and scientists, food grain production rose by 35% from the late 1960s to early 1970s. By the mid 1980s, food stocks had crossed the 30 million tonnes mark. Her dedication towards building an India independent in every sense of the word is also reflected in her contribution towards education. Against all odds and without any foreign sponsorship, her government succeeded in establishing a university with a focus on the humanities in 1969. That is the genesis of JNU, Jawaharlal Nehru University. Named after her father, Pt. Jawaharlal Nehru, it continues to produce activists and scholars who shape the idea of the nation to this day.
Critics from both ends of the political spectrum continue to broach the part she played in imposing a state of emergency in 1975. The Emergency was a 21-month period during which politicians from the opposition were jailed, press censored, and civil liberties restricted. As if to make matters worse, the government chose this critical period to launch a mass sterilisation campaign, resulting in around 4 million people sterilised and hundreds dead due to botched surgery. The poor retaliated in the next general elections, causing her to lose her own parliament seat in 1977. Gandhi herself repented for presiding over the period and called it a "disaster" in a press conference in London.
The general consensus on her leadership was, however, in her favour, which is probably why she was re-elected as prime minister two years later.
Indira Gandhi's commitment to communal harmony, education, and the poor, resonates in the speech she gave in Bhubaneswar in a voice charged with emotion. It was her last public address before she flew off to Delhi and was shot to death in the morning by her own bodyguard, who was intent on creating a separate country based on religion. Her distaste for prejudice was such that she refused to heed the advice of party members who tried to dissuade her from hiring a Sikh during the separatist Khalistan movement in the 1980s. For all her shortcomings, Indira Gandhi sided with the essential values she had envisioned for India until her last breath.