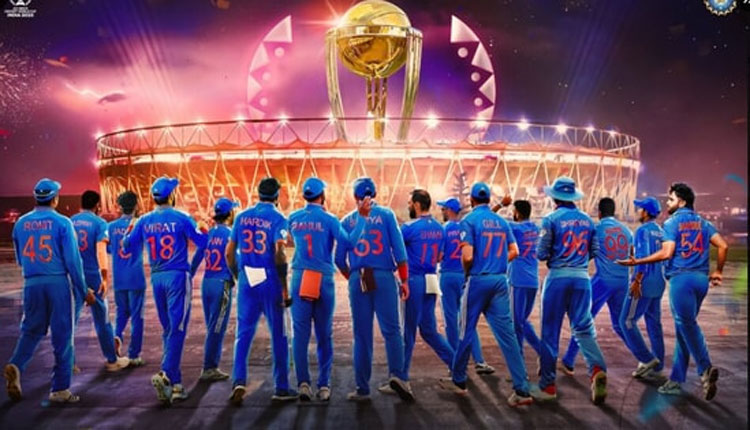 New Delhi: All eyes will be on the Narendra Modi Stadium in Ahmedabad on Sunday as India and Australia lock horns in the highly anticipated final of the ICC ODI World Cup. The stage is set for an epic clash, with both teams boasting formidable lineups and a strong desire to lift the coveted trophy.
Team India is riding high on the wave of victory, having won all 10 of their matches in the tournament thus far. Their impressive performance has ignited a surge of national pride and instilled unwavering belief in their ability to triumph once again. The blessings of the nation's 140 crore people are with them, fueling their determination to bring home the trophy.
In a heartwarming gesture, CPP Chairperson Sonia Gandhi extended her heartfelt congratulations to Team India, praising their exceptional performance and wishing them the very best in the upcoming final. She fondly recalled India's previous World Cup victories in 1983 and 2011, emphasising the unifying power of cricket in bringing the nation together.
Her words echoed the sentiments of millions across India, with fervent prayers and devotional ceremonies taking place across the country. A special aarti was performed in Varanasi, seeking divine blessings for Team India's success.
Bollywood actor Sonu Sood, a staunch supporter of the team, added his voice to the chorus of encouragement, stating, "The entire country—140 crore people—are praying for your victory." His message encapsulated the unwavering support and faith that Team India enjoys from its countrymen.
BCCI Vice President Rajeev Shukla expressed his optimism for India's victory, highlighting the team's impressive form and consistent performance throughout the tournament. His confidence reflected the collective belief that India has the potential to reclaim the World Cup title after a 12-year hiatus.
The final match promises to be an enthralling spectacle, with both teams determined to etch their names in cricket history. India, the two-time World Cup champion, will seek to repeat its past glories, while Australia, a five-time victor, will aim to add another star to its crown.
With the nation's hopes resting on their shoulders, Team India is poised to unleash its prowess and emerge victorious, bringing immense joy and pride to the entire country.