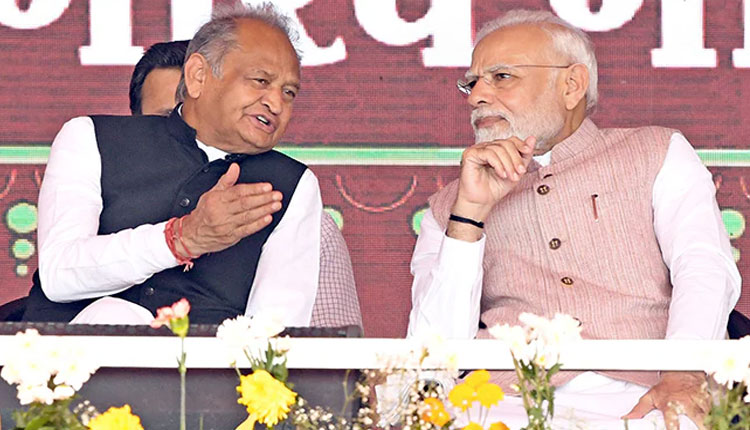 Jaipur: As Rajasthan gears up for the upcoming elections on November 25, caste politics has taken centre stage, with both major parties, the Congress and the BJP, actively wooing the Dalit vote bank. The recent visit by Congress National President Mallikarjun Kharge and Chief Minister Ashok Gehlot to SMS Hospital in Jaipur to meet Harshadhipati Valmiki, a Dalit officer who was assaulted by his MLA and current BJP candidate Girraj Singh Malinga, has further intensified the political maneuvering.
Valmiki, who has been paralysed since the assault 20 months ago, has become a symbol of the Dalit community's struggle for justice and equality. His case has also highlighted the growing political divide between the Congress and the BJP, with both parties attempting to capitalise on the Dalit vote bank.
Kharge, during his visit to the hospital, accused the BJP of being anti-Dalit and criticised the party for giving a ticket to Malinga. He also questioned the BJP's commitment to the welfare of Dalits, stating that the party had not done anything for the poor and Dalits.
Meanwhile, Prime Minister Narendra Modi, in an apparent attempt to woo the Jat community, another major vote bank in Rajasthan, visited the Tejaji temple in Nagaur. The Jat community is largely concentrated in western and central Rajasthan and plays a crucial role in determining the outcome of elections in the state.
Modi's visit to the Tejaji temple is seen as a strategic move to consolidate the Jat vote bank in favour of the BJP. The Prime Minister addressed an election meeting after offering prayers at the temple, emphasising the BJP's commitment to the welfare of all communities, including the Jats.
The intense focus on caste politics in Rajasthan highlights the deep-rooted divisions within the state's social fabric. While political parties scramble for Dalit and Jat votes, the victim's family expresses regret over the politicisation of their pain. The public remains aware of the political motivations behind these actions and will ultimately decide who to trust with their votes.