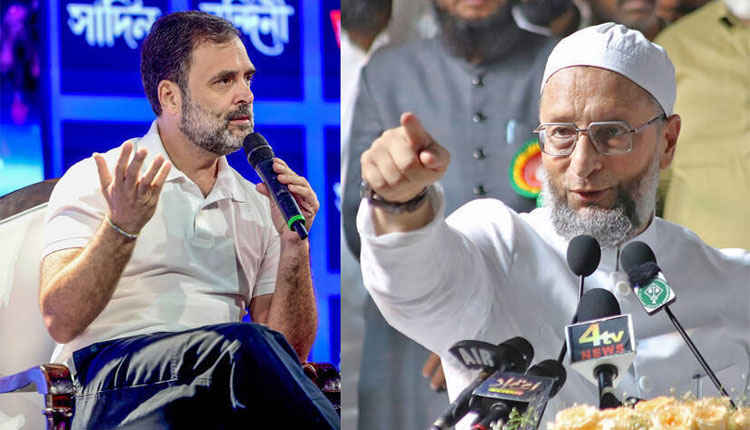 Hyderabad: In the heat of the Telangana Assembly elections, Asaduddin Owaisi, President of the All India Muslim Ittehadul Muslimeen (AIMIM), has launched a scathing attack on Congress leader Rahul Gandhi and Union Minister G. Kishan Reddy.
Owaisi, known for his outspoken demeanour, levelled strong criticism against Gandhi, questioning his political credibility and accusing him of receiving money from the Bharatiya Janata Party (BJP).
"Rahul Gandhi led Congress with 540 Lok Sabha seats, but despite this, the party was limited to 50 seats. Has he not taken money from the BJP?" Owaisi remarked, challenging Gandhi to come clean on the matter.
This isn't the first time Owaisi has raised these allegations. In the past, he has accused Gandhi of making false accusations against him due to his religious identity.
"Rahul Gandhi is making these allegations because of my religious identity. He should explain the allegations of taking money to deliberately lose the election from Amethi Lok Sabha constituency," Owaisi asserted.
Owaisi further pointed out that prominent members of Gandhi's own party, such as Jyotiraditya Scindia and Jitin Prasad, have joined the BJP without facing similar accusations.
"Why is Rahul Gandhi silent on these defections? Is it because they are not from a particular community?" Owaisi questioned.
Owaisi's sharp criticism extended to Union Minister G. Kishan Reddy, who had made comments about the "bulldozer government" in Telangana.
"G Kishan Reddy should remember that we are not sitting here just like that. We are not some chickens, whatever they want to do with us. The BJP is making poisonous statements when they are unable to compete politically," Owaisi retorted.
Owaisi's fiery remarks have undoubtedly added a new dimension to the Telangana Assembly elections, intensifying the political battleground.