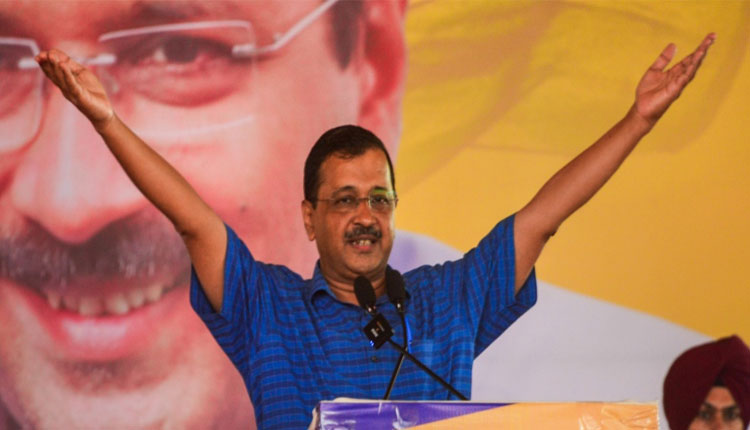 NewDelhi: In a bold declaration, Aam Aadmi Party (AAP) national convenor and Delhi Chief Minister Arvind Kejriwal proclaimed that his party is destined to rule India one day. Addressing a gathering of party workers, Kejriwal lauded the AAP's phenomenal growth, describing it as the fastest-growing political party in the world.
"To date, there has been no party in the whole world that has progressed so fast," Kejriwal asserted. He urged party workers to recognise their role in shaping the AAP's remarkable trajectory, stating, "All the people who have come to this conference are part of the fastest-growing party in the world."
Kejriwal highlighted the AAP's impressive electoral achievements, emphasising its steady expansion across the nation. "Today, our party has become the third largest party in the country. We formed the government in Delhi and the government in Punjab. In Gujarat, we secured 14 percent of the votes and elected five MLAs," he declared.
With unwavering confidence, Kejriwal predicted the AAP's future dominance in the Indian political landscape. "The next government in Gujarat will be of the Aam Aadmi Party," he asserted. He further expressed his belief that the AAP will eventually surpass both the Congress and the BJP to become the ruling party of India.
"My heart says that one day Congress will leave BJP behind and Aam Aadmi Party will rule the country," Kejriwal proclaimed. His unwavering optimism stems from the party's meteoric rise and the strong support it has garnered across the country.
Kejriwal also took aim at the Modi government, criticising its alleged lack of transparency and integrity. "Prime Minister Modi is not honest. No one is against corruption. On June 27, Modi ji called the NCP corrupt. The leader whom he had described as a scamster of Rs 70,000 crore, he made him the Deputy Chief Minister as soon as he joined the BJP," he remarked.
Kejriwal cited several examples of political leaders who had faced corruption charges but were embraced by the BJP upon joining the party. He questioned the Prime Minister's moral stance, asking, "Is this the honesty of the Prime Minister?"
Kejriwal's impassioned address to AAP workers served to galvanise their spirits and reinforce the party's unwavering belief in its ability to reshape the Indian political landscape. His bold predictions and sharp criticisms underscore the AAP's determination to challenge the status quo and establish itself as a major force in Indian politics.