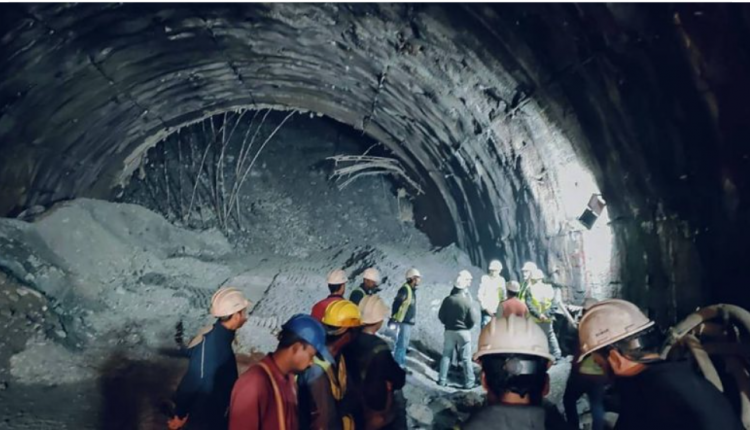 New Delhi: The 40 workers trapped under debris at a collapsed tunnel in Uttarakhand's Uttarkashi district are being provided with essential supplies of food and medicines. On day 5, additionally, the 'American auger' machine arrived in disassembled components at the Chinyalisaur airport, situated over 30 kilometres from the collapsed tunnel on the Char Dham pilgrimage route.
The machine will be employed to excavate a passage through the debris of the collapsed tunnel section. Notably, on November 12, the Silkyara Tunnel project suffered a collapse, trapping 40 construction workers within the rubble.  Once the passage is clear, 800-mm and 900-mm diameter segments of mild steel pipes will be installed, one at a time. Upon completion of this procedure, the workers trapped on the other side of the rubble will be able to crawl to safety. The workers have been confined within the tunnel, their lives hanging by a thread for over 96 hours.
Rescue teams are maintaining regular communication with the workers, ensuring their spirits remain unbroken and their hope alive. Elite rescue teams from Thailand and Norway, including the one that successfully rescued the trapped children from a cave in Thailand in 2018, have joined forces to aid in the ongoing rescue operation, NDTV reported.
On Wednesday, the rescue operations were hindered by a fresh landslide after over 70 hours of relentless operations. Rescue teams had invested hours in constructing a platform for the 'American auger', however, the fresh landslide forced them to disassemble the machine and restart platform construction.
Highlighting the complexities of constructing infrastructure projects in the Himalayan region, an expert, Dr Sudhir Krishna, a former secretary at the Union Urban Development Ministry told NDTV of the several challenges hindering the rescue of the construction workers.
"Himalayan region comprises soft rocks in general. Only in patches, there are hard stable rocks. It's a difficult situation. There are multiple challenges (in rescue work), landslide is one, land subsidence is the second," Dr Krishna said.
Subsidence is the gradual settling or downward movement of the Earth's surface, often caused by the removal of water, oil, natural gas, or minerals through mining or other acitivities. "The state government or the centre cannot do it alone. They have to work together along with a lot of experts who have a vision. For example, this project is intended to reduce travel time from 50 minutes to five minutes, allowing two-way traffic, allowing SUVs to ply. What is the great hurry? 50 minutes is not a long time," Dr Krishna told NTDV.
The under-construction tunnel is part of the ambitious Char Dham project, a national infrastructure initiative to enhance connectivity to the Hindu pilgrimage sites of Badrinath, Kedarnath, Gangotri, and Yamunotri.
Notably, five workers from Odisha are also trapped in the tunnel.