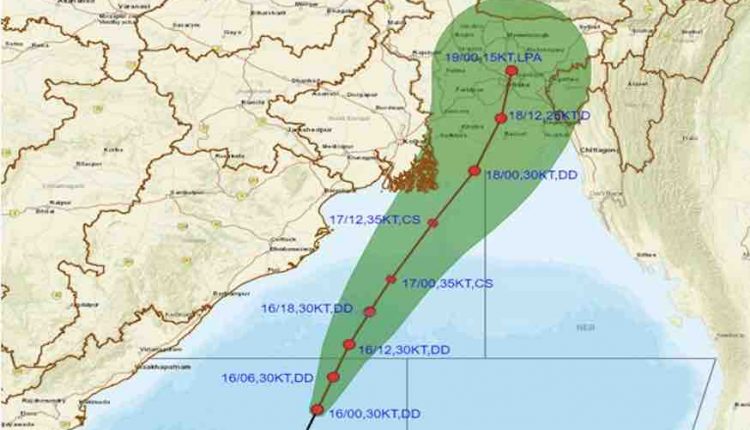 Bhubaneswar: The depression over Westcentral Bay of Bengal has intensified into a deep depression, the India Meteorological Department (IMD) informed on Thursday.
"The depression moved north-northeastwards with a speed of 18 kmph during past 6 hours, intensified into a deep depression and lay centred at 5.30 am over Westcentral Bay of Bengal, about 380 km east-southeast of Visakhapatnam (Andhra Pradesh), 380 km south of Paradip (Odisha), 530 km south-southwest of Digha (West Bengal) and 670 km southwest of Khepupara (Bangladesh). It is likely to continue to move north-northeastwards, intensify further and cross Bangladesh coast between Mongla and Khepupara with wind speed 55-65 kmph gusting to 75 kmph around morning of November 18," it said.
The weather agency has forecast light to moderate rainfall at many places with isolated heavy rainfall over coastal districts of Odisha on November 16-17.
According to the Centre for Environment and Climate (CEC) of Siksha 'O' Anusandhan (SOA) here, the deep depression
may change track and move north or north-northeastwards towards the Odisha coast and intensify into a cyclonic storm on November 17 with wind speed reaching 80 to 90 km per hour in the sea. The wind speed close to the Puri, Jagatsinghpur and Bhadrak coast is expected to be between 55 to 70 km per hour during the period.
The system will remain a little away from the Balasore coast on November 18 morning with reduced wind speed of 60 to 75 km per hour. The wind speed in Khurda and Cuttack will be less, it said.
Under its influence, moderate to heavy rain is expected in coastal Odisha, including Bhubaneswar from November 15 night. There is probability of heavy to very heavy rainfall on November 17 as the system is likely to stay stationary for the whole day off the Bhadrak coast. Around 40 to 60 mm of precipitation is expected in Bhubaneswar and 30 to 45 mm in Khurda on November 16 and 17.
There is heavy rain probability in the districts of Balasore, Bhadrak, Jajpur, Dhenkanal, Mayurbhanj and Keonjhar for about 24 hours from November 16, the bulletin added.