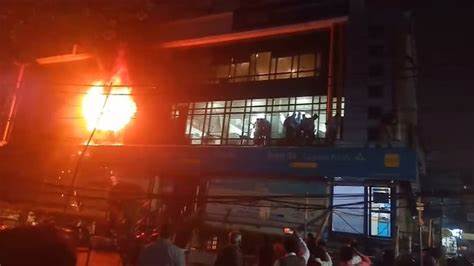 Lucknow: Employees of a bank in the UP capital had a real scare as a fire broke out on Monday evening
Flames were noticed at a first-floor branch of Canara Bank located in the busy Hazratganj area of Lucknow.
All bank employees and others in the building were safely rescued after several fire tenders were rushed to the site.
A number of videos of the bank fire surfaced online. Some of those showed employees of the bank escaping through the window and walking along the ledge of the building, awaiting fire brigade officials to get them down.
Watch videos shared by a user on X:
Fire breaks out Canara Bank branch in Lucknow. People were seen jumping building to save their lives. #Fire #FireAccident #Lucknow

Via: @vani_mehrotra

— Raj Paladi (@IamRajPaladi) November 20, 2023
After the fire was extinguished and everyone evacuated, a fire department official said that an electrical short circuit may have caused the blaze on the first floor.
An employee who escaped through the window said that he had seen the airconditioner catch fire.
"There were around 40 people inside. We broke the windows, walked on the building's ledge and were rescued by fire fighters," he told ANI.