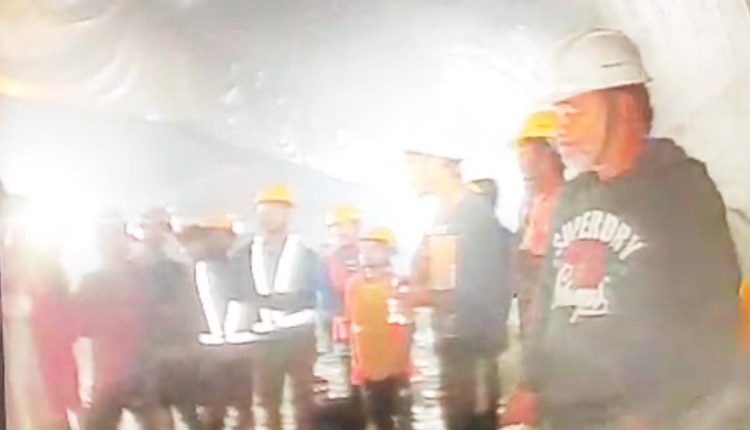 Dehradun: Rescuers on Tuesday released the first visuals of workers trapped inside the collapsed Silkyara tunnel in Uttarakhand's Uttarkashi for 10 days.
According to reports, the visuals were captured using an endoscopic camera sent in through the 6-inch pipeline, which was pushed through the debris of the collapsed tunnel the previous day and allowed for supplying larger quantities of food to the 41 trapped workers.
In the footage, workers donning yellow and white helmets can be seen receiving food delivered through the pipeline and engaging in conversation with the rescue teams. This visuals have come as a big relief to the families of these workers.
"It's fantastic, of course, the news we have had over the last few hours. It is great to see the faces of those men that we are going to bring home. We have food going to them now, we have communications to them now. You have seen this morning that we have multiple approaches to the rescue. It's a good morning. Vertical drilling will start once the site is prepared because for vertical drilling it is very important that it is done very accurately…I think the team here has done a wonderful job. It is fantastic…Two locations identified (for vertical drilling). We are going to rescue these men. 41 men are going to be coming home and no one is going to be hurt, that's the mission…," International Tunneling Expert, Arnold Dix told ANI.
A member of the family of a worker trapped in Silkyara tunnel said, "We are hopeful but I will be satisfied once I get to speak to him."
National Highways and Infrastructure Development Corporation Limited Director Anshu Manish Khalkho had earlier told the media that cameras, which came from Delhi late on Monday, would be inserted through the pipeline to see how the workers were doing.