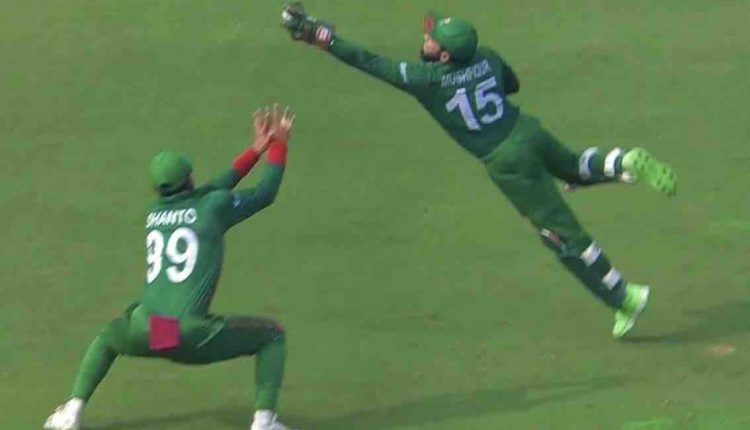 New Delhi: Even as Arvind Kejriwal government decided to bring back Odd-Even scheme from November 13-20 to combat pollution, Bangladesh struck early with Mushfiqur Rahim taking an absolute blinder from Sri Lankan opener Thisara Perera, who nicked a good length delivery by Shoriful Islam in the first over of the World Cup match at Arun Jaitley Stadium in New Delhi on Monday.
Earlier, Bangladesh won toss and opted to field in smoky Delhi, battling severe air pollution for the past one week. Though already knocked out from semifinal contention, both Bangladesh and Sri Lanka would be looking to earn two crucial points which might help them qualify directly for the Champions Trophy 2025.
The biggest concern around this game was New Delhi's Air Quality Index (AQI) which plummeted to 'severe plus', which earlier saw cancellation of several practice sessions. The toxic smog had also cast a shadow on the match and there were speculations that it might get cancelled.
The ICC, in a statement, said, "The BCCI engaged the services of renowned Pulmonologist Dr Randeep Guleria to assess the situation in Delhi ahead of Monday's game and provide independent expert advice. Under Dr Guleria's guidance, the venue team has been taking mitigating actions throughout the day including the implementation of water sprinklers around the premises and the installation of air purifiers in the dressing rooms and match officials areas. The AQI within the stadium was monitored throughout the day which has reduced to levels considered acceptable by Dr Guleria."
"The ICC will continue to work in collaboration with Dr Guleria, BCCI, DDCA, and the Delhi Government to monitor the air quality and to take all possible steps to mitigate the air quality concerns at the Arun Jaitley Stadium and the match remains scheduled to take place in Delhi on Monday," it added.