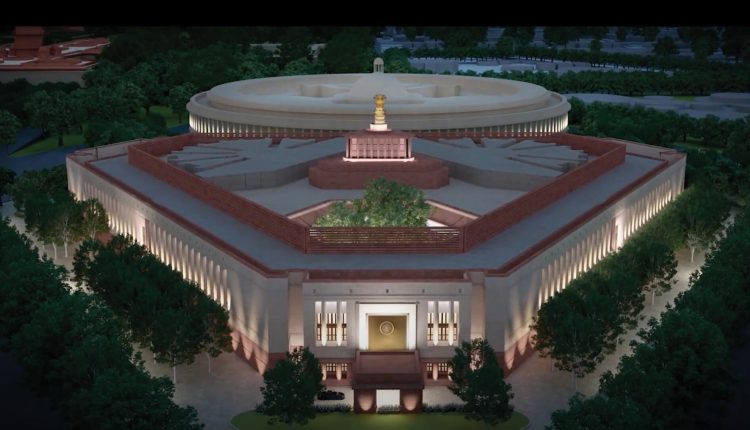 New Delhi: Hours before legislative proceedings shift to the new Parliament House, Lok Sabha and the Rajya Sabha members turned up in myriad colours for the joint photo session at the old Parliament building on Tuesday.
In his address to the MPs, who then gathered at the Central Hall of the old Parliament building to celebrate country's 'rich parliamentary legacy', Prime Minister Narendra Modi urged them to reaffirm the commitment to make India a developed nation by 2047 and described the move to the new Parliament building as a new beginning towards a new future.
"Since 1952, 41 heads of states from across the world have addressed our MPs in Central Hall. Today, we are going to do 'Shree Ganesha' of the new future as we move to the new Parliament building. Today, we are going to the new building with the determination to fulfil the resolve of a developed India."
"Muslim mothers and sisters got justice because of this Parliament, law opposing 'triple talaq' was unitedly passed from here. In the last few years, Parliament has also passed laws giving justice to the transgenders. We have unitedly passed laws that will guarantee a bright future for the specially-abled people. It is our privilege that we got the opportunity to abrogate Article 370 from the Parliament," he said.
PM Modi announced that the old Parliament building will be called Samvidhan Sadan.
Earlier in the day, a Gazette notification was issued designating the new building of Parliament as the Parliament House of India.
According to media reports, Women's Reservation Bill, which the Union Cabinet reportedly cleared on Monday, is likely to be tabled in Lok Sabha as the special session begins in the new Parliament building. The discussion on the Bill will held the following day while it will be taken up in the Upper House on September 21, the reports added.
Reacting to the proposed 33 per cent quota for women in Parliament and legislative Assemblies, Congress chief Sonia Gandhi, as she entered the Parliament, said, "It is ours, apna hai."
It was during the UPA government that the bill was passed in Rajya Sabha on March 9, 2010. However, it was not taken up in the Lok Sabha. "If the government introduces the Women's Reservation Bill tomorrow, it will be a victory for the Congress and its allies in the UPA government," senior Congress leader P Chidambaram asserted.