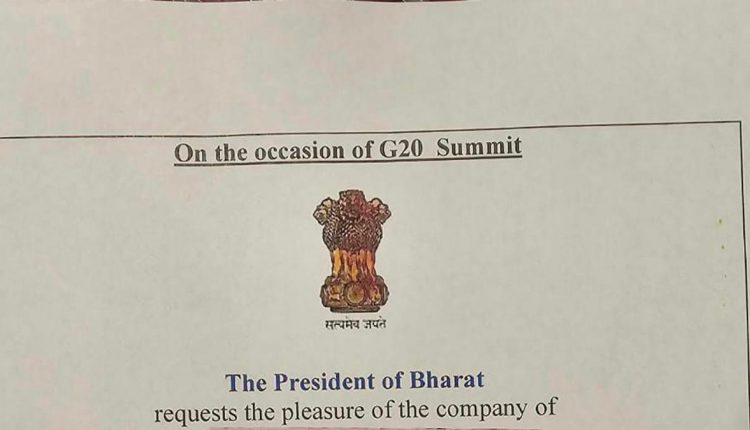 New Delhi: The invites to a G20 summit dinner hosted at the Rashtrapati Bhawan issued in the name of 'President of Bharat' instead of 'President of India' has triggered an immediate response from the Opposition I.N.D.I.A, which accused Prime Minister Narendra Modi of distorting history.
The invitation, which was also widely shared on social media, is for September 9 at 8 pm at Bharat Mandapam, the venue for the G20 summit. It was shared by Union minister Dharmendra Pradhan on X (formerly Twitter).
Officials say this is the first change of India's nomenclature for any official event.
Earlier in the day, Assam Chief Minister Himanta Sarma proclaimed India as "Republic of Bharat" in a post on X. "Republic of Bharat- happy and proud that our civilisation is marching ahead boldly towards Amrit Kaal," he wrote.
REACTIONS
Reacting immediately to the move, Congress general secretary Jairam Ramesh slammed the move.
"Mr. Modi can continue to distort history and divide India, that is Bharat, that is a Union of States. But we will not be deterred. After all, what is the objective of INDIA parties? It is BHARAT—Bring Harmony, Amity, Reconciliation And Trust. Judega BHARAT! Jeetega INDIA!" he added.
Congress MP Pramod Tiwari also questioned the move. "…PM Modi had given names like 'Make in India', 'Skill India', 'Khelo India'…They (BJP) are scared of the word 'India', Article 1 of the Constitution says 'India, that is Bharat'…How can this name (India) be removed…?"
Congress General Secretary (Organisation) KC Venugopal alleged that the BJP's "destructive mind can only think of how to divide people" and once again, they were "creating a rift" between Indians and Bharatiyas. "Let's be clear – we are the same! As Article 1 says – India, that is Bharat, shall be a Union of States. This is petty politics because they are scared of INDIA. Try what you will, Modi-ji. Judega Bharat, Jeetega INDIA!" he said.
AAP Rajya Sabha MP Sanjay Singh alleged that the Rashtriya Swayamsevak Sangh (RSS) wants to change the Constitution of the country by 'removing' the word 'India'. "Babasaheb Dr Bhimrao Ambedkar wrote in the constitution–"India That Is Bharat". But Modi and RSS who hate Babasaheb want to change the constitution. Why do Bhagwat and Modi hate Babasaheb so much?" he posted on 'X'.
Delhi Chief Minister Arvind Kejriwal asked, if the I.N.D.I.A alliance changes its name to Bharat, will they rename it too.
In his reaction, RJD MP Manoj Jha said, "…It has just been a few weeks since we named our alliance as INDIA and BJP has started sending invitations with 'Republic of Bharat' instead of 'Republic of India'. Article 1 of the Constitution reads 'India that is Bharat'. Neither you will be able to take India from us nor Bharat…"
BJP's national president J P Nadda fired a volley of questions in response to the objections raised by the opposition alliance. "Why do you do political tours in the name of Bharat Jodo but hate the slogan of Bharat Mata Ki Jai? It is clear that Congress neither respects the country, nor the Constitution, nor the constitutional institutions. It only aims to praise one family (Gandhis). The entire country knows very well the anti-national and anti-constitutional intentions of Congress," he said.
Responding to Jairam Ramesh, BJP National General Secretary Tarun Chugh told ANI, "Why is there an issue with saying or writing Bharat? Why are you feeling ashamed, Jairam Ramesh? Our nation has been called Bharat since ancient times and it is even mentioned in our Constitution. They are trying to create misunderstandings for no reason."
This came three days after RSS chief Mohan Bhagwat made an appeal to refer to the country as Bharat. In the monsoon session of Parliament, BJP Rajya Sabha MP Naresh Bansal had also demanded the removal of 'India' from the Constitution, arguing that 'the word India is an abuse given to us by the British whereas the word 'Bharat' is a symbol of our culture…' His sentiment was echoed by fellow BJP MP Harnath Singh Yadav, who called for a constitutional amendment to replace "India" with "Bharat".
With special session of Parliament set to begin on September 18, there is speculation that a constitutional amendment bill may be introduced to effect this change.
The G20 Summit is being held in the national capital from September 9 to 10 under India's presidency and several heads of state from across the world, including US President Joe Biden, are attending it.