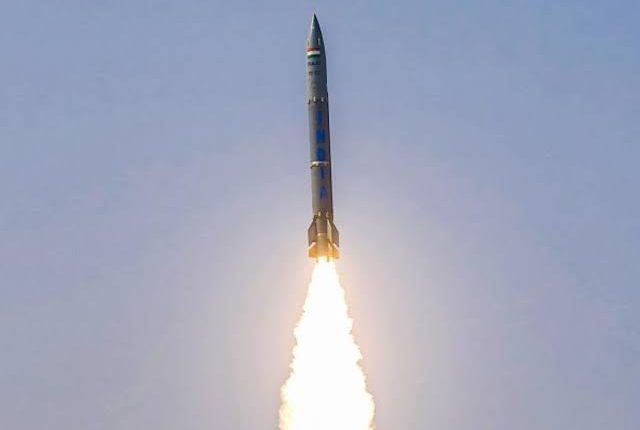 Bhadrak: India on Tuesday successfully test fired tactical surface-to-surface short-range ballistic missile (SRBM) Pralay from a test facility off Odisha coast.
According to sources, the short-range ballistic missile was test fired at 9.50 am from Abdul Kalam Island in Bhadark district.
The missile was successfully tested twice on consecutive days last year on December 21 and December 22.
With a strike range of 500 km, the canisterised missile powered by a solid propellant rocket motor and equipped with a manoeuvrable re-entry vehicle (MARV) is in the process of induction. It will be India's first tactical quasi-ballistic missile, featuring advanced capabilities designed to thwart interceptor missiles, and will give the armed forces the capability to hit enemy positions and key installations in actual battlefield areas, according to reports.
It has a range of 150-500 km, a payload of 500 kg to 1,000 kg and is capable of being launched from a mobile launcher. It can also carry a high explosive preformed fragmentation warhead, penetration-cum-blast (PCB) and runaway denial penetration submunition (RDPS).
Pralay missile can be compared to China's Dong Feng 12 and the Russian Iskander missile that has been used in the ongoing war with Ukraine. Incidentally, Pakistan also has tactical ballistic missiles.
In September, India's Defence Ministry approved the acquisition of a regiment of 'Pralay' ballistic missiles to be deployed along the Line of Actual Control and the Line of Control. It followed a similar approval granted to the Indian Air Force for the acquisition of these missiles. Pralay, along with the BrahMos supersonic cruise missile, will form the crux of India's planned Rocket Force, the reports added.
While the DRDO's Research Centre Imarat in Hyderabad is the lead integrator of the Pralay project, the High Energy Materials Research Laboratory (HEMRL) has developed the composite propellant for the missile.