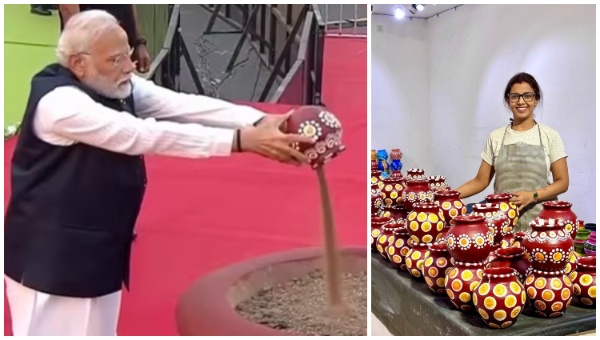 Bhubaneswar: Months after Konark Wheel of Odisha served as the backdrop for the customary photo-op at G 20 Summit, a kalash (urn) crafted by an accomplished Odia artist, Dr Suryasnata Mohanty, took centre stage at Amrit Kalash Yatra event in New Delhi on Tuesday.
It was this hand-painted kalash that Prime Minister Narendra Modi picked among thousands presented to his office, to offer soil in the Amrit Kalash, marking the culmination of 'Meri Maati Mera Desh' campaign.
Joint Director at KIIT University, Suryasnata currently resides in Delhi.
Born in Bhubaneswar, she did her schooling from Stewart School here and is a gold medallist in law from National Law School, Bengaluru. She has a PhD degree in Law as well.
Engaging with art as a passion from an early age and having trained under professional artists, Suryasnata also continued to paint as her calling. She has held solo shows – Universe in a Mobius Strip at DLF Promenade Mall, Submergence and Emergence at India Habitat Centre and participated in National Kala Mela of Lalit Kala Akademi, besides showcasing her works in group exhibitions across the country, including at National Gallery of Modern Art, New Delhi, Lalit Kala Akademi, New Delhi, Pracheen Kala Kendra, Chandigarh (curated by Shobha Broota), Salar Jung Museum, Hyderabad. She has also participated in several online international shows.
She mostly works in acrylic medium with brush and palette knife and at times with oil, water colour and charcoal.
Suryasnata is the daughter of academician Bijoy Kumar Mohanty and writer Renubala Mohanty.
Notably, 'Meri Mati Mera Desh' campaign was announced by PM Modi in August to honour the martyred bravehearts of the country. Subsequently, 'Amrit Kalash Yatra" was organised under the campaign during which selected youths from 7,500 gram panchayats across India assembled at Kartavya Path in Delhi with 7,500 urns carrying soil from across the nation along with saplings, which will be used for constructing 'Amrit Vatika'. Sacred soil was collected from 13,128 villages of Odisha in all the 314 blocks.