Bhubaneswar: Odisha government's Odisha Liveable Habitat Mission (OLHM) or the Jaga Mission for urban homeless has won a Bronze at the World Habitat Awards 2019.
"It is heartening to know that the initiative has been recognised globally by the Wold Habitat Awards. I dedicate this award to the people of Odisha," said Chief Minister Naveen Patnaik.
David Ireland, Chief of World Habitat said, " This project has not only established land rights for residents and improved living conditions, they are doing it on an astonishing scale. In fact the project covers a million people living in more than one thousand slums in the state of Odisha."
The World Habitat judging panel specifically appreciated the speed with which the project has been taken up and backed by legislation.
Odisha government had rolled out the project on May 7, 2018, a first of its kind in the country, to give land titles to slum dwellers. It was initiated and implemented with the active involvement of Tata Trusts.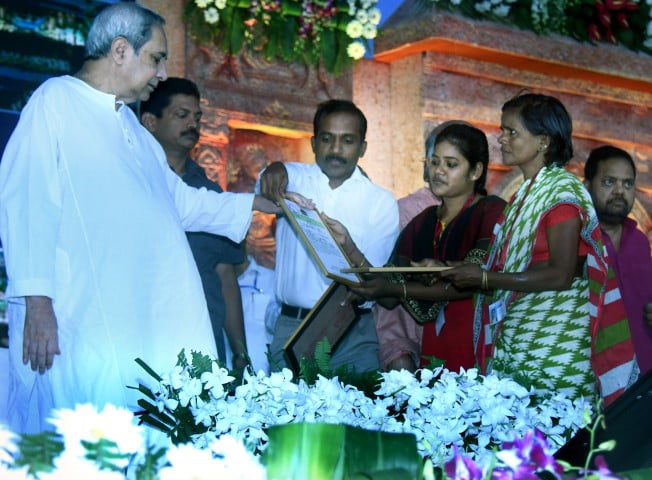 On that day, the Chief Minister  had handed land titles to 2,000 slum dwellers from nine urban local bodies at Chhatrapur in Ganjam district in the presence of Tata Trusts Chairman Ratan Tata and noted British architect Norman Foster.
Ratna Tata had said, "It's an earth shaking initiative for providing entitlement to a million slum dwellers."
Touted as the world's largest slum land titling project, it stands to benefit a million people residing in 2,500 slums across the state.
It all started when the Odisha government enacted the Odisha Land Rights to Slum Dwellers Act 2017, which provides slum dwellers with land rights. Along with this, the government ensured that the slum area is converted into a livable habitat. As per the Act, the beneficiaries were to get 30 square metre of land free of cost and for the rest they had to pay as per the benchmark price. Odisha government had also initiated measures to link the slum households to affordable housing schemes being implemented under the state's Awas Mission to help them access financial support to construct their homes.
The beneficiaries were to be provided Rs 200,000 part funding to build their homes, along with basic needs like electricity, health care, education, sanitation, Anganwadis, and skill development.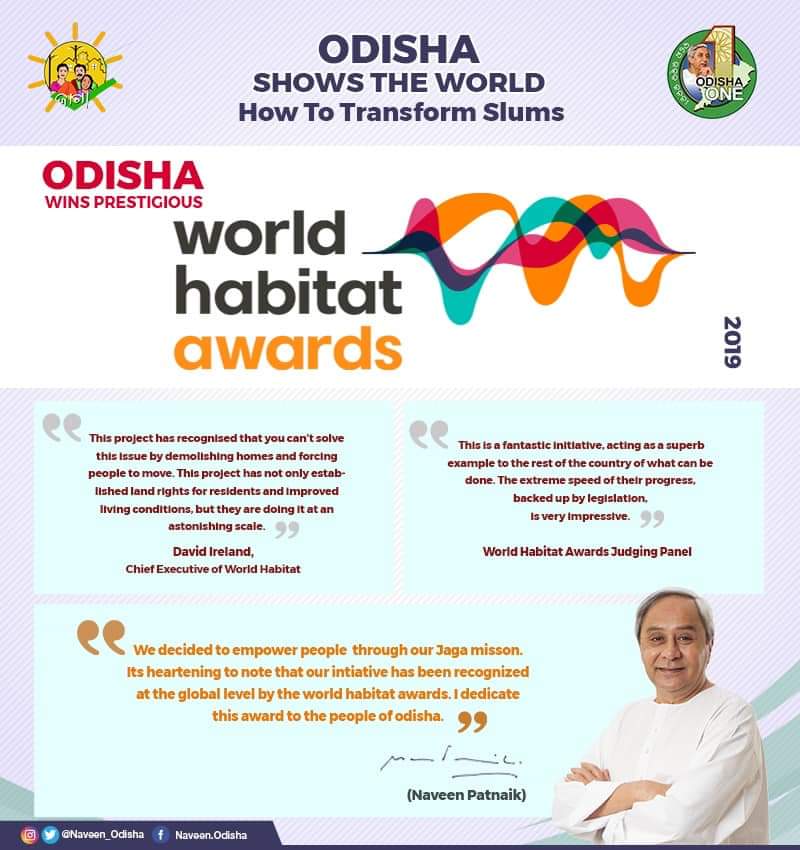 A post on the official Twitter handle of the Chief Minister said that this revolutionary decision has changed the way the world looked at slum dwellers. "In a Cabinet meeting chaired by him it was decided that the way to solve the issue of slums was not evicting or demolishing slum dwellers but by recognising their immense contribution to life in the city and empowering them with land rights," it added.
A total of 52,000 families have so far been granted land rights under Jaga Mission.
This is the second award for Jaga Mission this month. On December 4, the state government was awarded with 'India Geospatial Excellence Award' for technological innovation in empowering urban poor by providing land rights.