Bhubaneswar: The Odisha Adarsha Vidyalaya Sangathan (OVAS) has proposed to hold cluster meetings of 40-50 principals of the Adharsha Model Schools to further improve learning outcomes and bring in greater efficiency in managing them.
Laying the road map up to September 2020, OVAS has also proposed to recruit more teachers as more and more Adarsha Model Schools opens at the block levels, create a cluster of student community and standardise the OVAS policy. It has also stressed on developing OVAS as a centre of excellence in the next two-three years for other states to emulate.
The road map was unveiled on the second day of the principals' orientation programme here.
Addressing the school heads, Minister of School and Mass Education Samir Ranjan Dash said each Adarsha Model School has to be "strong enough" to mentor the rural students who have to compete with 53000 private schools in the state.
He praised the Advisor and Working President of OVAS Dr Bijaya Kumar Sahoo for holding this unique orientation session for the principals.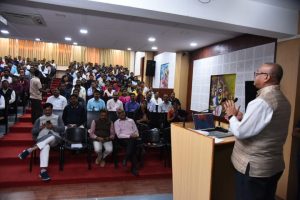 Dr Sahoo underlined the qualities that a principal should possess to take his/her institute to greater heights. He also asked them to do a "self-introspection and know their objective and purpose of being the torch bearers of their respective Adarsha model schools," said a statement.
He held an open house where he interacted with the principals and asked them to share ideas to make the schools the best in the state.