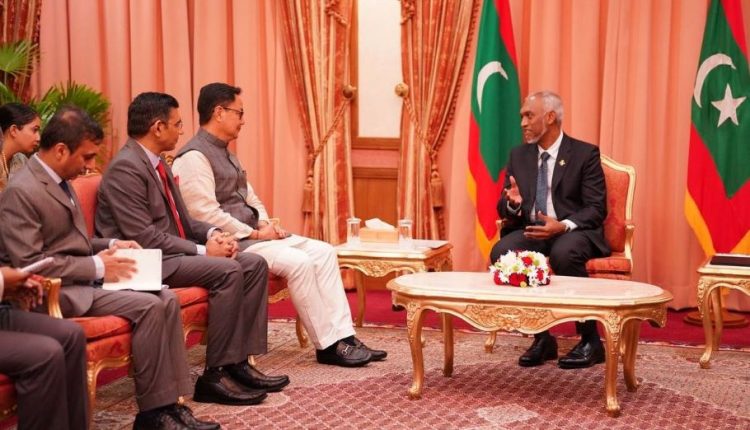 New Delhi: Maldives on Saturday officially asked India to withdraw its military presence from the country.
The announcement was made through a statement by the office of Maldivian President Mohamed Muizzu, after the President made the request during his meeting with Indian minister Kiren Rijiju earlier in the day.
Rijiju, minister of Earth Sciences, was in Maldives to attend Muizzu's swearing-in ceremony on Friday.
"The President noted that at the Presidential Election held in September, the Maldivian people had given him a strong mandate to make the request to India and expressed the hope that India will honour the democratic will of the people of the Maldives," the statement read.
"When Minister Rijiju called on President Muizzu, the President brought up the issue of Indian military personnel present in the Maldives for operating aircraft for medical evacuation and counter drug trafficking purposes," the statement added.
There are around 70 Indian soldiers in the archipelago nation, manning radars and surveillance aircraft. Indian warships also help patrol Maldives' exclusive economic zone.
"The country will not have any foreign military personnel in the Maldives. When it comes to our security, I will draw a red line. The Maldives will respect the red lines of other countries too," Muizzu was quoted as saying by news agency AFP.
Muizzu, who is seen as pro-China, said that his intention was not to upend the regional balance by replacing Indian military with Chinese troops.
"Maldives is too small to be entangled in geopolitical rivalry. I am not very much interested to engage the Maldivian foreign policy in this," he said.