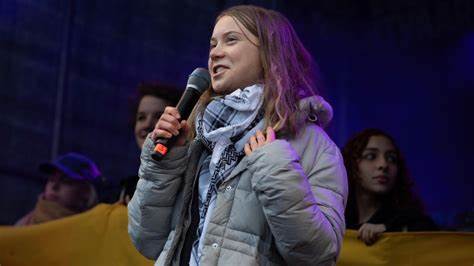 New Delhi: Climate activist Greta Thunberg came under fire over her pro-Palestinian stance at a climate protest on Monday in Germany. The local chapter of the climate movement 'Fridays for Future' had distanced itself from her views on the Israel-Hamas war.
Thunberg was at a climate protest on Sunday in Amsterdam, where she chose to wear the Palestinian black and white scarf and urged "ceasefire now," before being interrupted by a man who sought to snatch the microphone from her, saying he had come for a climate protest, not for her other views, news agency AFP reported.
Her statements in Amsterdam marked "the end of Greta Thunberg as a climate activist," said Volker Becker, the president of the German-Israel Society DIG, adding that "from now: Israel hater is the main job" for the Swedish activist.
The Israeli embassy in Germany also wrote on X, formerly known as Twitter, that it was "sad that Greta Thunberg is again misusing the climate stage for her own purposes."
Fridays for Future's international group has blasted the "genocide" in Gaza, and slammed "Western support and misinformation machines".
Luisa Neubauer, who heads the German chapter of Fridays for Future, recently told Die Zeit weekly of her regret over what she called Thunberg's one-sided view of the conflict. "I'm disappointed that Greta Thunberg had nothing concrete to say about the Jewish victims of the massacre of October 7," she said.
Germany's climate activist branch had also distanced itself from the international group over its pro-Palestinian posts on Instagram. Neubauer said that Thunberg was "extraordinarily reflective and far-sighted" in the past but that the German climate branch will now have to examine "with whom we still have a basis to work based on common values".
"It is obvious that for many global organisations, global realities diverge when it comes to Israel and Palestine. But that does not justify anti-Semitism or disinformation," warned Neubauer, AFP reported.