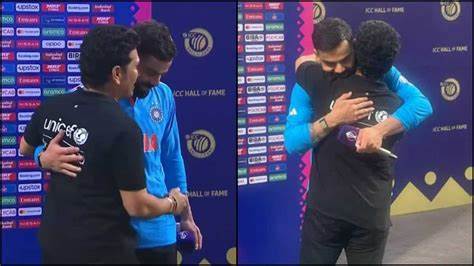 Mumbai: Virat Kohli sure has a sense of occasion.
He equalled Sachin Tendulkar's record of most ODI centuries (49) at the iconic Eden Gardens 10 days ago, in the World Cup league fixture against South Africa.
On Wednesday, Kohli surpassed Tendulkar by hitting his 50th ton in the World Cup semifinal against New Zealand at another storied venue – the Wankhede Stadium — in front of the great man himself.
"It feels like a dream… the great man just congratulated me. It feels like a dream," Kohli said in an interview to the broadcasters after India's innings.
"It's very difficult for me to express my feelings… My life partner, the person I love most (Anushka Sharma) and my hero Sachin paaji were sitting in the stands. And all these fans at the Wankhede. It's too good to be true… Never thought I'd be here in my career," said an emotional Kohli, who bowed to Sachin and wife Anushka Sharma after reaching three figures.
Soon after India finished their innings with a record total of 397/4, Tendulkar was quick to step on to the ground and congratulate Kohli. He was joined by English footballing legend David Beckham, who was among a galaxy of celebrities in attendance.
Tendulkar saluted Kohli in a tweet.
"The first time I met you in the Indian dressing room, you were pranked by other teammates into touching my feet. I couldn't stop laughing that day. But soon, you touched my heart with your passion and skill. I am so happy that that young boy has grown into a 'Virat' player. I couldn't be happier that an Indian broke my record. And to do it on the biggest stage – in the World Cup Semi-final – and at my home ground is the icing on the cake," Tendulkar wrote on X.