Bhubaneswar: Preparations are on in full swing in Odisha capital for Christmas celebrations.
The city is decked up, as seasonal shopkeepers have opened many small temporary shops selling Santa's costumes on the roadsides. Besides, many gift shops are selling Santa's costumes, gifts and decorative items for Christmas. All the shops are decked up with holly and colourful toys.
"We have Santa Claus masks and caps of all sizes. These are a major attraction for children. We are selling Santa's cap at Rs 30 and the whole costume is available in the range Rs 100 to Rs 500," said Rajesh Kumar.
Rajesh belongs to Rajasthan and has brought these items from Delhi.
"We have brought these costumes of Santa Claus from Delhi. They costume are in great demand," said Rajesh.
More than 40 such sellers have come here for selling these costumes and are quite happy with the sales even though most of them are living on the roadside. This is their seasonal business.
"I am a seasonal businessman. Before this, I was selling covers for bikes and other two-wheelers," he added.
"We have costumes for all age groups, from children to adults," said Rajesh. Many schools, which have been celebrating Christmas have bought costumes from these sellers.
There is better and more expensive stuff available in the malls and private shops. Santa Claus costumes are available in the range of Rs 400 to Rs 1,000 and show pieces in the price range of Rs 600 and Rs 20,000.
Many parents were seen buying the costumes for their children both from the roadsides and shops.
As Santa's costume is a craze among children, they can be seen pestering their parents to buy them one at shops in the markets and on the streets too.
"Every year we need this costume with other accessories. When we were in school, we had not seen such costumes and theme-based programmes. Now,  I get a chance to see Christmas theme-based programme every year in my daughter's school. I have not seen anything like this in my childhood. I love doing this now for my children. They are learning many new things. We should help and inspire them," said a parent Namita Mohapatra. Her daughter is studying Class-VI in a convent school in the city.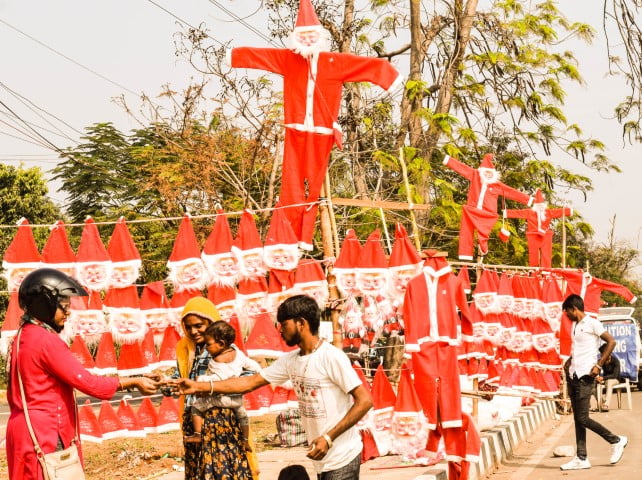 Who is Santa Claus?
The man we know as Santa Claus has a history. Today, he is thought of mainly as the jolly man in red, but his story goes way back to the third century. The legend can be traced back to a monk named St Nicholas. It is believed that Nicholas was born sometime around 280 AD in Patara, near Myra in modern-day Turkey. Admired for his piety and kindness, the monk became the subject of many legends. It is said that he gave away all of his inherited wealth and travelled the countryside helping the poor and sick. Over the course of many years, Nicholas's popularity spread and he became known as the protector of children and sailors. He was soon appointed as a bishop of the church. Because Nicholas was still so young, people called him the "Boy Bishop."
Santa Always Wears Red. Why?
The red and white is actually derived from the colours of Saint Nicholas. Over time, the bishops' red and white robes were replaced by a fur-trimmed suit. Historians argue that bishops' robes appeared in many different colours but the red one came to be linked to Father Christmas during the 19th century.