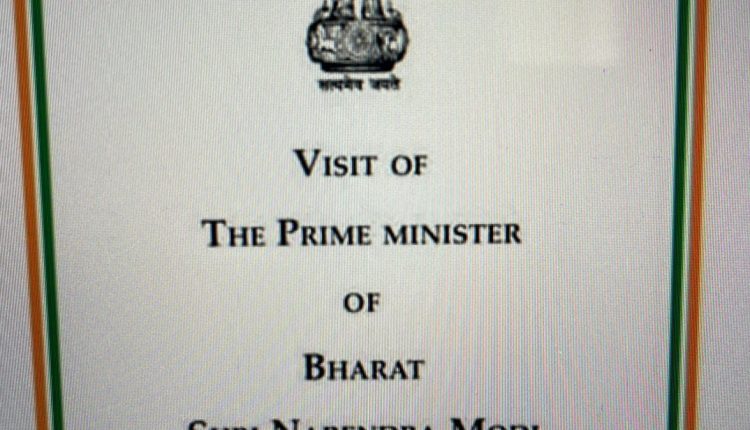 New Delhi: Even as the 'President of Bharat' controversy rages on, a government booklet on the Prime Minister's visit to Indonesia for the 20th ASEAN-India Summit and the 18th East Asia Summit refers to Narendra Modi as the "Prime Minister of Bharat". It was tweeted by BJP spokesperson Sambit Patra who too mentioned "Prime Minister of Bharat".
Rejecting as "rumours" the speculation, especially in the Opposition camp, that the special session of the House had been called to effect a name change from India to Bharat, Union Information and Broadcasting Minister Arunag Thakur told The Indian Express: "I think these are just rumours which are taking place. All I want to say is that anyone who objects to the word Bharat clearly shows the mindset."
On the President's dinner invitation, Thakur said the President is "Bharat ke Rashtrapati… toh unhone likh diya (so she wrote) President of Bharat. So what?"
"I am a Minister in the Bharat Sarkar. There is nothing new in it. G20-2023 (branding, logo) will have both Bharat and India written. So why this objection to the name Bharat? Why does anyone have an objection to Bharat? This shows their mentality, that in their hearts they are against India or Bharat. When they go overseas, they criticise Bharat. When they are in India, they have objection to the name of Bharat," he said.
"Who has dropped it? (the word India)… Nobody has dropped it. Even if you look at the G20 branding… it is India 2023 and Bharat. Why should anyone even speculate or object to Bharat being written like that? This branding has been done for the last one year."
Earlier in the day, Union Education Minister Dharmendra Paradhan took to social media to share the dinner invitation in the name of the "President of Bharat".