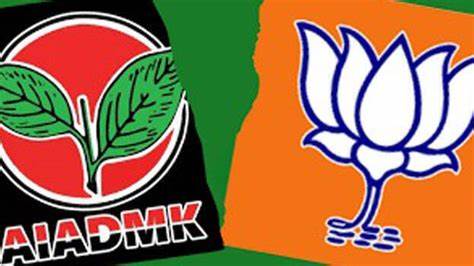 Chennai: In a jolt to the BJP-led NDA ahead of next year's Lok Sabha elections, the AIADMK on Monday announced it was parting ways with the national-level alliance after adopting a unanimous resolution.
"The state leadership of the BJP has been continuously making unnecessary remarks about our former leaders, our general secretary EPS (Edappadi Palaniswami) and our cadres for the past one year,"AIADMK deputy coordinator KP Munusamy said, explaining why his party took the decision.
AIADMK, which is not part of the Opposition INDIA bloc, said it will lead a separate front in the 2024 Lok Sabha elections.
Relations between the BJP and AIADMK have been strained for several months.
Tamil Nadu BJP chief K Annamalai has repeatedly attacked AIADMK leaders, but the saffron party's central leadership didn't rein him in.
Palaniswami met Union Home minister Amit Shah on September 14, while an AIADMK delegation went to Delhi and deliberated on the alliance with BJP chief JP Nadda and Union minister Piyush Goyal.
But all these efforts failed to yield any result with the BJP national leadership reluctant to intervene in the state-level feud.
In the 2019 Lok Sabha polls, AIADMK had an alliance with the BJP but won only one seat.