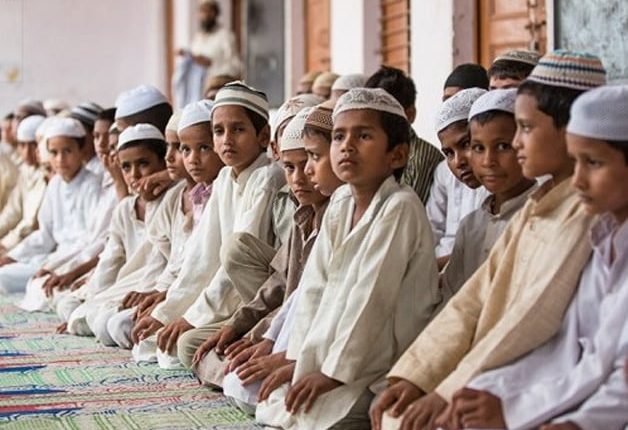 New Delhi: Madrassas in Uttarakhand will now teach Sanskrit to pupils as part of a "hybrid model" of education introduced by the state Waqf Board. The new model will also include an NCERT syllabus. The project will first be implemented in four madrassas. The madrassas chosen for the pilot project are Muslim colony of Dehradun, Rahmania Madrasa in Roorkee (Haridwar), Rehmannia madrassa in Khatima, US Nagar, and Jama Masjid madrassa at Ramnagar in Nainital district.
"The Waqf Board in Uttarakhand has decided to implement the NCERT syllabus in the 117 Waqf Board Madrasas in the state. The NCERT Syllabus includes Sanskrit also. When our children can learn Hindi, English, Math, Science, Physics, Chemistry, Biology and Arabic, they can study Sanskrit too," Chairman of Uttarakhand Waqf Board, Shadab Shams has said.
Shams added that 117 madrassas will be teaching Sanskrit along with other subjects in the hilly state. Up until now, Madrassas only taught theology related to Islamic and Arabic studies.
Speaking to the Times of India, Shams said, "Till now, only theology related to Islamic studies along with Arabic was taught in 117 madrassas registered with UWB. But now, classes will cover the NCERT syllabus and will be taught in Sanskrit as well. Since Sanskrit is a subject in the NCERT curriculum, our students will be able to study it", adding, "Madrassa students often find it difficult to mix with other students later in education as they are taught only theology. Now, apart from theology, they will be able to study NCERT syllabus from Class 1 to Class 8."
The chairman said that the language should not be attached to any religion as "everyone has the right to learn.
"Sanskrit is one of the official languages in Uttarakhand and we're introducing only NCERT curriculum in our madrassas which includes it as a subject just like Hindi and English. There are many madrassa students whose parents want their children to study all subjects like other kids in government and public schools," he said.