Bhubaneswar: The eighth edition of National Tribal Crafts Mela, which is underway in the Odisha capital has been attracting a lot of art lovers. The seven-day fair, organised by SC and ST Research and Training Institute and ST and SC State Development Department at the Odisha State Tribal Museum Complex, will conclude on November 29.
Along with other tribal crafts from across the country, the exhibition is showcasing a wide range of tribal painting from different states.
Oraon Art, Madhya Pradesh
"Oraon traditional art form symbolises folk beliefs, traditions and conceptions and defines the foundations of human tendencies," says Sumati Devi Bhagat who has come to the fair from Madhya Pradesh with Oraon paintings.
Oraons are an important Dravidian tribe of the Chotanagapur in Madhya Pradesh.
"We draw generally draw different geometric patterns with our fingers using clay, red clay and charcoal mixture on the floor of our houses. But we have never thought of selling this art form through the medium of a canvas,"she added.
"Once one of the villagers hit upon this idea, we started going for workshops and exhibitions. I have been coming to this exhibition since 2013. Initially, our paintings did not make a mark but now people appreciate them and even buy them," said Sumati.
The price of Oraon paintings is in the range of Rs 150 to Rs 6,000.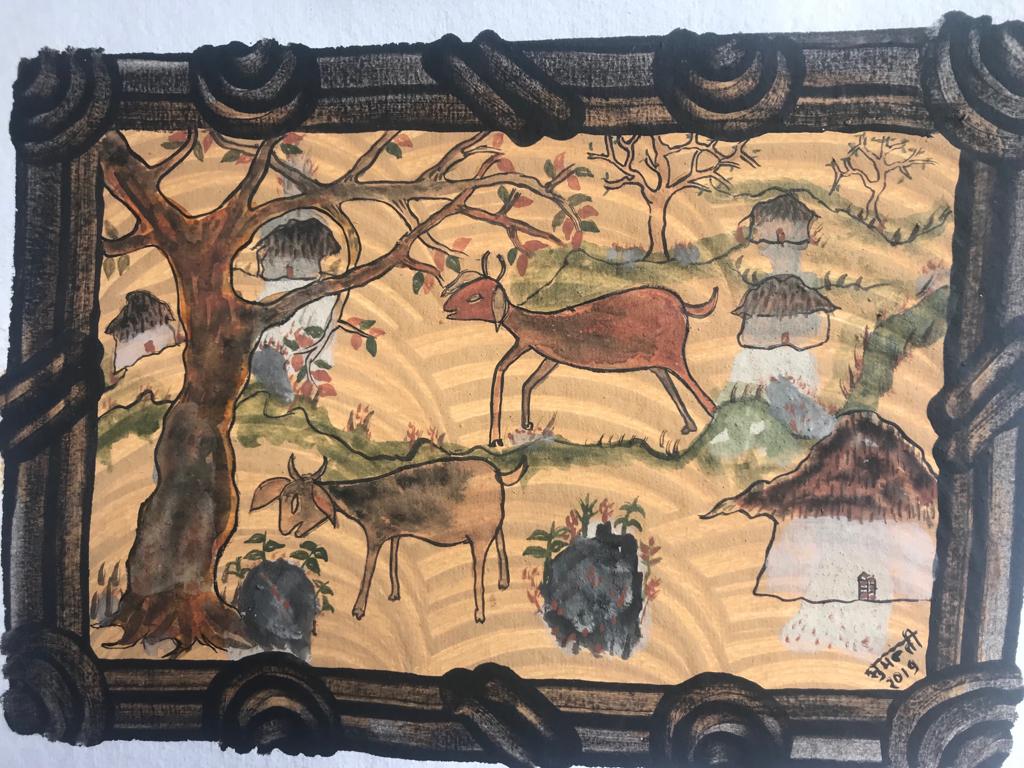 Warli paintings, Maharashtra
It is not possible to go to this exhibition and not visit the stall displaying Warli paintings. The clarity of the paintings and finishing work is what attracts people.
"We use rice paste with water and gum, red soil, cow dung and poster colours to make these paintings. It takes three to four days to make one painting as we have to do it minutely," said artist Sandeep Bhoir.
"I have come to this fair for the first time. The sale is average. The price of the paintings is in the range of Rs 500 and Rs 2,000," said Sandeep.
"These paintings depict the way of life of our tribe. We also showcase geometric patterns of flowers, wedding rituals, hunting scenes and other everyday activities," he added.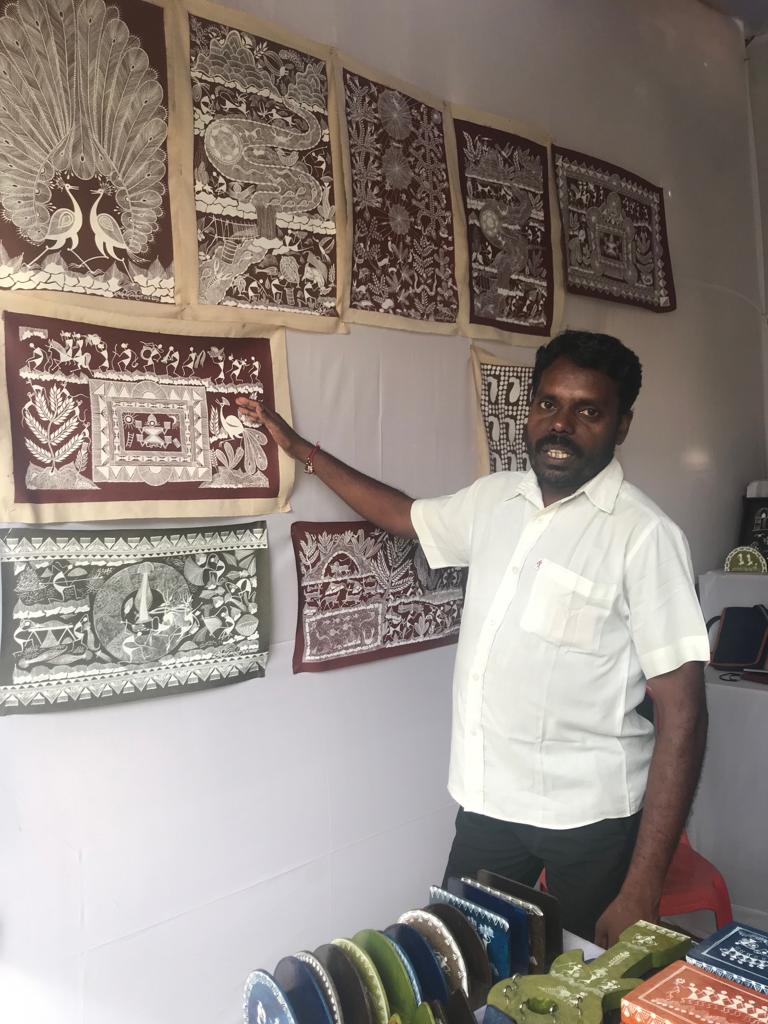 Tribal Painting, Rajasthan
Artist Yaspal Baranda has come from Rajasthan with tribal paintings that are made up of coloured pens and acrylic on canvas. Most of his paintings show the Bhil culture of south Rajasthan.
"We have showcased many festivals of our Bhil tribe including Holi and Diwali through our paintings," said Yaspal.
"People here are slowly understanding our culture through the paintings," he added.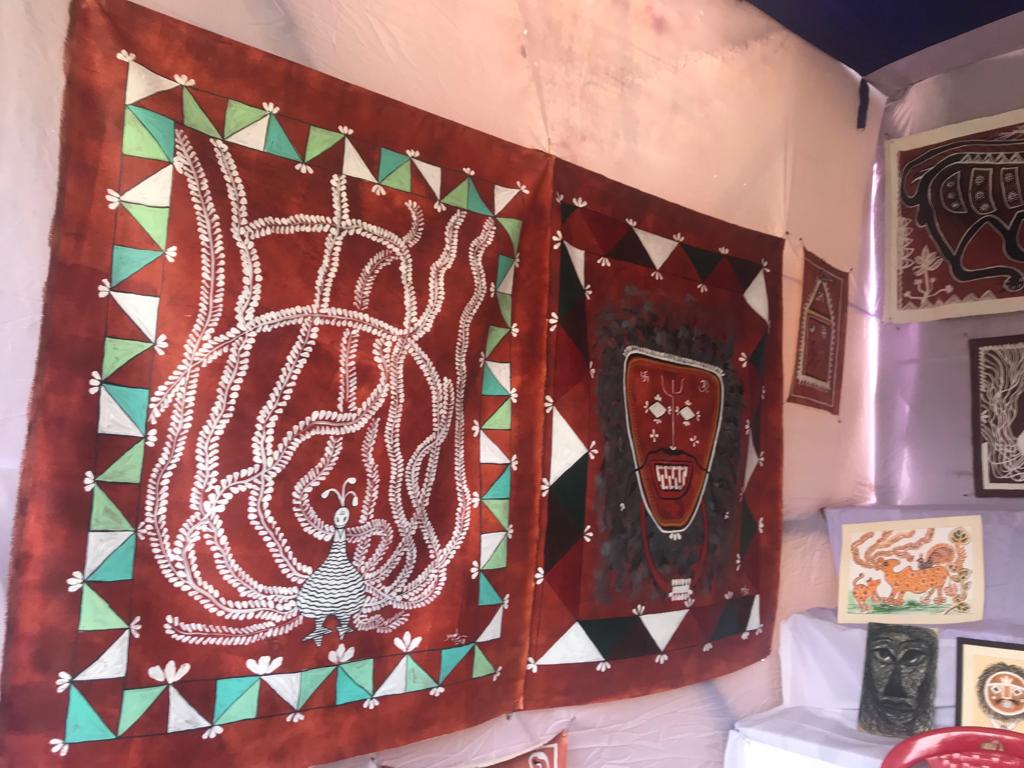 Tribal Painting, Odisha
The paintings of different communities such as Saura, Kondh, Kissans and Juang are available in the fair. These paintings reveal the rich cultural tradition of Odisha.
Suresh Nayak, who has been coming to the fair since the last six years said it took four days to complete one painting.
"We use natural colours. As they are very costly, sometimes we also use acrylic colours," said Nayak.
Besides, the iron craft of Bastar, Chhatishgarh is also much in demand at the fair.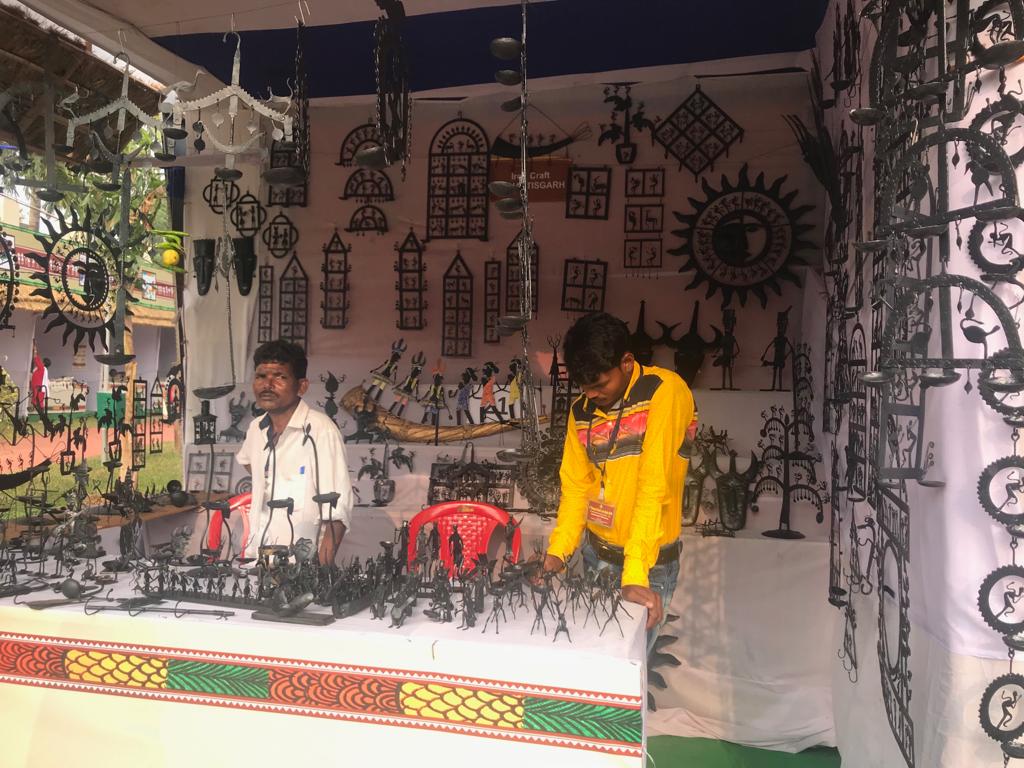 Jaylal has come with many artefacts. The price range is in between Rs 250 and Rs 50,000.
Other attractions of the fair include basket work from Manipur, wooden and bamboo craft from Maharashtra, products from Tribes India and ADISHA, Koraput Coffee, Dhokra craft from Dhenkanal, tribal jewellery and dresses.