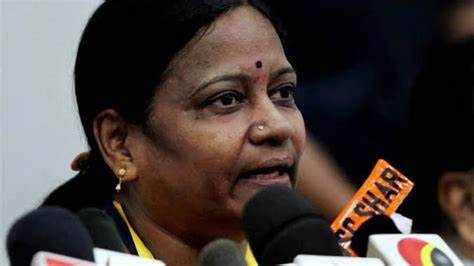 New Delhi: N Valarmathi, the iconic voice behind rocket countdown launches died on Saturday but not before the most recent countdown during the launch of Chandrayaan-3, India's ambitious moon mission that scripted history. It was her last
According to reports, the Indian Space and Research Organisation (ISRO) scientist died of a heart attack in Chennai.
A former ISRO Director Dr P V Venkitakrishnan took to X to condole her demise and wrote, "The voice of Valarmathi Madam will not be there for the countdowns of future missions of ISRO from Sriharikotta. Chandrayan 3 was her final countdown announcement. An unexpected demise. Feel so sad. Pranams!"
A native of Tamil Nadu's Ariyalur, she was born on July 31, 1959 and went to the Nirmala Girls Higher Secondary School before graduating in engineering from the Government College of Technology in Coimbatore. The scientist joined ISRO in 1984 and played a pivotal role in numerous missions. She was the project director of RISAT-1, India's first indigenously developed Radar Imaging Satellite (RIS) and the country's second such satellite.
In 2015, she became the first person to receive the Abdul Kalam Award, instituted by the Government of Tamil Nadu in honour of the former president Abdul Kalam in 2015.