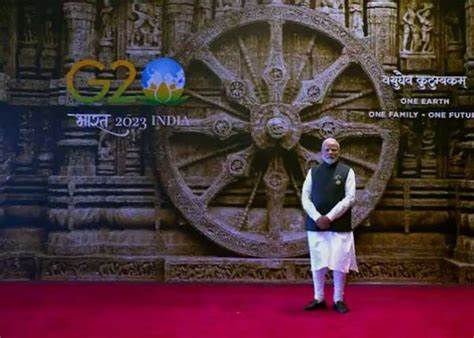 New Delhi: The G20 Leader's Summit began in New Delhi on Saturday and a replica of Konark Wheel from the Sun Temple in Odisha's Konark served as the backdrop of Prime Minister Narendra Modi's welcome handshake with the world leaders as they arrived at Bharat Mandapam International Exhibition and Convention Centre here.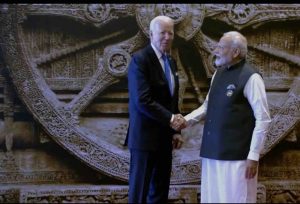 Dedicated to Sun God Surya, the Konark Temple was built during the 13th century under the reign of King Narasimhadeva-I.
It was declared a UNESCO world heritage site in 1984. The wheel with 24 spokes embodies India's ancient wisdom, advanced civilisation and architectural excellence. The rotating motion of the Konark Wheel, symbolises time, Kalachakra as well as progress and continuous change. It serves as a powerful symbol of the wheel of democracy that reflects the resilience of democratic ideals, and commitment to progress in society.
The first session "One Earth' of the G20 Summit, which represents a central topic of discussion among G20 leaders, will take place at the Summit Hall at Bharat Mandapam round 10.30 am. This session will focus on accelerating climate action through increased mitigation and strengthening the agenda of global net zero emission as soon as possible.
Also Read: From Subz Korma To Kesar Pista Rasmalai From Odisha, What G20 Leaders Had For Dinner Last Night
All of Delhi has been put under Section 144 for the crux of the G20 Summit on September 9 and 10.