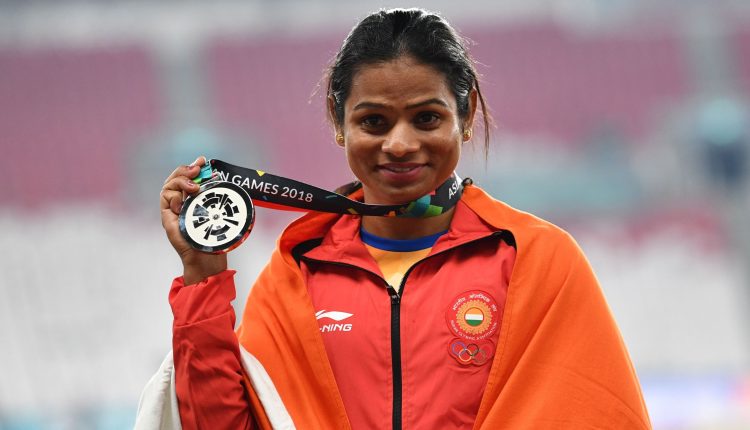 New Delhi: National record holder Dutee Chand has failed the out-of-competition dope test and has been served with a four-year ban. The ban starts from January 3, 2023, and all the competitive results that she obtained from the date of sample collection (December 5, 2022) will be disqualified while she will have to forfeit the medals, points, and prizes as per a report in The Times of India.
Dutee set the new India women's record when she ran 100m in 11.17 seconds during the 2021 Indian Grand Prix 4.
The publication quoted a copy of the Anti-Doping Disciplinary Panel (ADDP) as saying, "The athlete though has satisfied the panel with the source of ingestion of the prohibited substance but was not able to establish the no significant fault or negligence."
ADDP observed that Dutee has failed to prove that the rule violation was unintentional.
"In view of the totality of circumstances, the athlete has failed to establish that the said anti doping rule violation (ADRV) was unintentional due to following reasons: 1) The athlete instead of consulting a physician allegedly consulted her physiotherapist and consumed the medicines prescribed by her. 2) The athlete did not check the label with respect to the contents of the medicine consumed by her. 3) The athlete didn't cross check the contents of the drugs with the latest published lists of prohibited substances by WADA," the ADDP, headed by Chaitanya Mahajan, said in its order.
According to the report, Dutee was tested twice by the National Anti-Doping Agency (Nada) in December 2022. After testing positive for prohibited anabolic steroids, she was provisionally suspended. The sample returned adverse analytical findings (AAF) for 'andarine', 'ostarine' and 'ligandrol'.
Dutee has "violated article 2.1 and 2.2 of the National Anti Doping Agency (NADA)… she is hereby sanctioned with an ineligibility period of four years as per article 10.2.1.1 of the NADA ADR 2021 beginning from the date of provisional suspension i.e. January 3, 2023."
The 26-year-old has 21 days to file an appeal against the order.