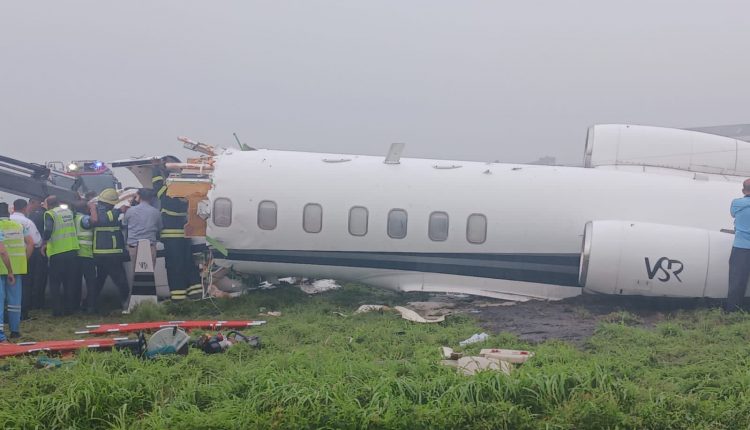 Mumbai: Co-pilot Neil Diwan, who was on board the private jet which veered off the runway and crash-landed at Mumbai airport on Thursday evening, is in critical condition.
All eight persons – six passengers, the pilot and co-pilot — on the aircraft were admitted to Criticare Asia Multispeciality Hospital and Research Centre in Mumbai.
Of them, 21-year-old Diwan was shifted to Kokilaben Dhirubhai Ambani Hospital on Friday morning with severe injuries, which included spinal injury and fractured sternum.
Diwan is paralysed below the waist. Spine specialist Dr Abhijeet Pawar performed an urgent surgery, reported Hindustan Times.
According to officials, Captain Sunil Kanjarbhat, the 46-year-old pilot, sustained multiple abrasions with trauma to the chest wall, spine, and a scalp hematoma. A scan revealed bleeding in chest area, and an ultrasound detected small fluid buildup in the heart.
Captain Kanjarbhat's vital signs are stable, but an MRI of the lumbar spine and 3D CT scan of the face have been advised.
The other passengers were Dhruv Kotak, Arul Sali, Krishnadas Kodalil, Aakursh Sethi, a 41-year-old woman Kamakshi Shringarpure and a Danish national, 58-year-old Lars Henrik Ostergaard Sorensen.
The Learjet 45 aircraft VT-DBL, belonging to VSR Ventures, flew from Visakhapatnam and skidded off the runway while trying to land at Mumbai airport amid heavy rain.
The aircraft, which suffered extensive damage, had to be removed with the help of a disabled aircraft recovery kit.
The accident resulted in some flights being cancelled, including a Mumbai-Bhubaneswar Indigo flight yesterday evening.