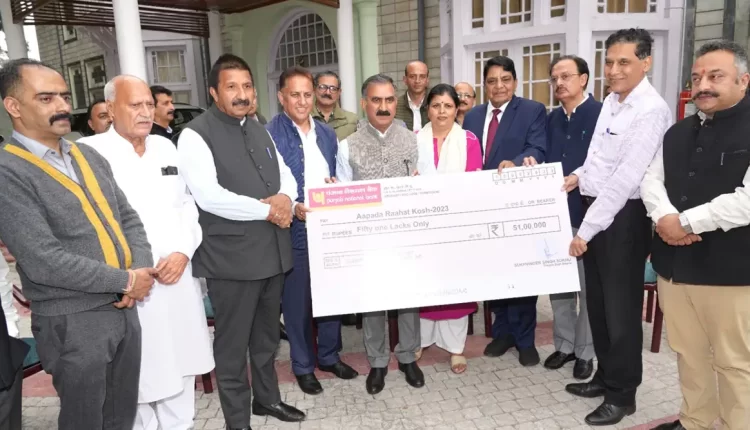 Shimla: In a laudable humanitarian act, Himachal Pradesh chief minister Sukhvinder Singh Sukhu on Friday donated all of his life savings to the 'Aapda Rahat Kosh', which is the state disaster relief fund, to help affected people in the state.
In a video posted by ANI, Sukhu and his wife Kamlesh Thakur are seen presenting a cheque for Rs 51 lakh to the state's chief secretary Prabodh Saxena.
#WATCH | Shimla: Himachal Pradesh CM Sukhvinder Singh Sukhu donates all his personal savings to the Disaster Relief fund pic.twitter.com/ronFhvZMZZ

— ANI (@ANI) September 15, 2023
Sukhu also gave away his salary of one year, contributing Rs 11 lakh more towards the state relief fund.
"I could well understand the pain of the people and their plight during the recent monsoon fury in the state in which more than 260 precious lives were lost," Sukhu said.
"Every section of the society voluntarily contributed towards the relief fund. Elders parted away with their pensions to help those in distress, children broke their piggy banks and the state government employees contributed generously from their salaries to contribute towards the 'Aapda Rahat Kosh'," he added.
According to the chief minister, Himachal suffered losses amounting to Rs 8,600 crore, which may go up to Rs 12,000 crore because of flash floods and landslides during this monsoon.
He also urged Prime Minister Narendra Modi to declare the calamity as national disaster.
Congress leader Priyanka Gandhi Vadra also made a similar appeal to the Prime Minister on Friday.
In a letter to Modi, Priyanka urged him to declare the destruction caused by fury of nature as a "national disaster", just like the Kedarnath tragedy of 2013. She also sought financial assistance for providing relief to the victims and their families as well as for rebuilding the state.