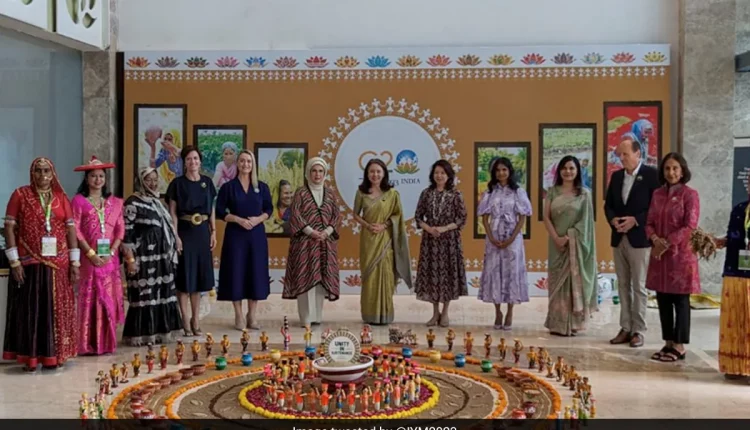 New Delhi: The G20 leaders were invited with their families to the dinner hosted by President Droupadi Murmu on Saturday night.
But how did the G20 first spouses keep themselves busy during daytime when the leaders met over two sessions at the summit being held at Bharat Mandapam Convention Centre?
Fifteen spouses of G20 leaders visited the 1,200-acre PUSA-Indian Agricultural Research Institute (IARI) campus, the seat of India's Green Revolution, reported PTI.
Japanese Prime Minister Fumio Kishida's wife Yoko, UK PM Rishi Sunak's wife Akshata Murty and World Bank President Ajay Banga's wife Ritu were among the delegation of first ladies and spouses who witnessed breakthroughs in Indian agriculture and enjoyed farm-to-fork millet experience.
Received by Kyoko Jaishankar, wife of India's External Affairs Minister S Jaishankar, the families of G20 leaders were welcomed by a 'millets rangoli' at the exhibition that showcased curated millets from 18 countries and the burgeoning startup ecosystem and Farmer Producer Organisations (FPOs) in India.
"At the exhibition area, 15 #Agristartups showcased innovative tech solutions to address ground-level challenges. #FPOs from across the nation displayed edible products marketed nationwide, aligning with the theme Empowering Rural Prosperity through Collective #Agriculture," the Agriculture ministry posted on X.The spouses met a tribal farmer from Madhya Pradesh who has made a significant contribution to conservation of millets in her farm field.
A 'Live Cooking Session' featured a range of millet-based dishes, led by @ChefKunalKapur, @anahita_dhondy & @mchefajaychopra. The event was aligned with the celebrations of the @IYM2023. Together with the @ITCHotels they crafted a full-course millet feast for G20 Spouses.@g20org pic.twitter.com/UDFXTRQoWB

— Agriculture INDIA (@AgriGoI) September 9, 2023
They also saw vertical farming, hydroponic farming and other sustainable agriculture methods.
About 20 female farmers from remote villages shared their experiences and wisdom about millet farming with the spouses of G20 leaders.
Farmers were invited from far-flung villages in 11 millet-producing states – Odisha, Madhya Pradesh, Assam, Bihar, Chhattisgarh, Rajasthan, Maharashtra, Karnataka, Uttar Pradesh, Tamil Nadu and Uttarakhand.
The spouses of G20 leaders also visited the 'live millets cooking counter' at IARI, where celebrity chef Kunal Kapur prepared several other dishes like 'Pumpkin and Coconut Shorba,' 'Naga Black Rice Bhel,' 'Beetroot and Peanut Butter Tikki' and 'Bengal Mustard'.
Hon'ble MoS Agriculture, Smt @ShobhaBJP discussed about 'millet-themed' live cooking session planned for G20 leaders' spouses. @g20org @DDNewslive #IYM2023 #ShreeAnna #G20SummitDelhi pic.twitter.com/FGEwZFvy8j

— International Year Of Millets 2023 (@IYM2023) September 7, 2023