Athagarh: To stop rampant smuggling of Pangolins, the Athagarh Forest Divison in Odisha's Cuttack district has announced cash reward for those who provide information about the person or  gangs involved in illegal trade.
"The Forest Department has the information about 20 gangs actively engaged in the smuggling of Pangolins across the state. To bust the racket, the Athagarh Forest Divison has announced a cash reward of Rs 10,000 for detailed information about the modus operandi of the person or the racket involved in the illegal trade in their area. Besides, cash award will be given if anyone sights a Pangolin in their area," Athagarh Divisional Forest Officer (DFO) Sasmita Lenka told the media here on Sunday.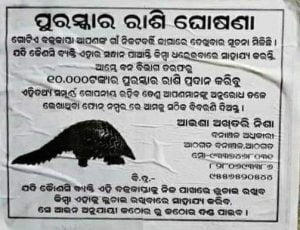 Talking about the steps taken to curb the smuggling of Pangolin, she said that while 12 persons have been arrested in three phases, two more were nabbed on Sunday. "We have collected vital information about the mode of smuggling of Pangolin during the interrogation of the 12 accused during their remand period," she added.
"To expedite the investigation, it has been decided that the photo of the 14 arrested persons will be displayed at all Divisional Forest Offices and police stations across the state," the DFO added.
The DFO further said that the accused during interrogation had disclosed the code word used by them for the smuggling of Pangolin. "We have given the code word to the Wildlife Crime Control Bureau (WCCB)," she pointed out.