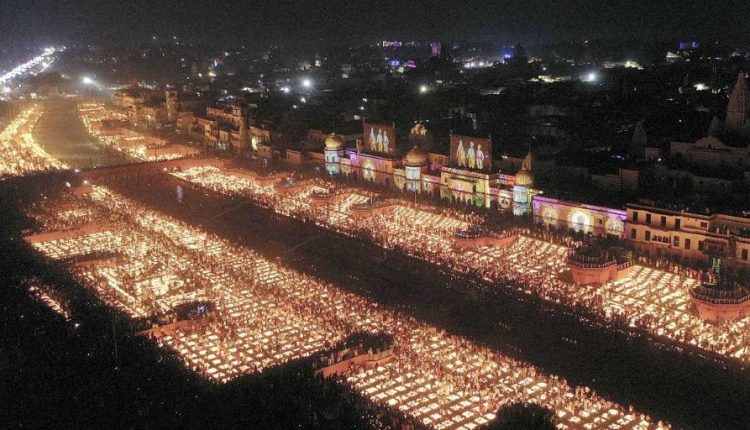 Ayodhya: Deepotsav celebrations in Ayodhya got bigger and grander this year.
A staggering 22 lakh diyas were lit here on Saturday evening, the eve of Diwali.
The ghats of this temple city, located on the bank of Saryu River, were spectacularly illuminated with lakhs of earthen lamps as Ayodhya broke its own world record.
Watch the celebrations in a video posted on X by All India Radio:
The #UttarPradesh government achieves the 6th Guinness World Record by lighting 22,23,000 diyas on #Deepotsav at 51 ghats of Ayodhya, including the Ram Ki Paidi.#AyodhyaDeepotsav #AyodhyaDham #DeepotsavAyodhya2023 #Deepavali2023 #DeepotsavAyodhya2023 pic.twitter.com/sCwHuWYod9

— All India Radio News (@airnewsalerts) November 11, 2023
Ayodhya started Deepotsav celebrations after the Yogi Adityanath-led BJP government came to power in UP in 2017. It started with about 51,000 diyas that year
The number of diyas went up significantly every year — 4.10 lakh in 2019, over 6 lakh in the first COVID year of 2020, more than 9 lakh in the next COVID year, 2021.
Last year, more than 17 lakh diyas were lit across ghats of Ram ki Pairi. However, Guinness Book of World Records considered only those earthen lamps which remained lit for at least five minutes and set the record at 15.76 lakh.
Earlier on Saturday, 18 tableaux — themed on Ramayana, Ramcharitmanas and various social issues — were part of a procession in the temple city.