New Delhi: Union Home Minister Amit Shah tabled the Citizenship Amendment Bill (CAB) in the Rajya Sabha on Wednesday, two days after it was cleared by the Lok Sabha following an acrimonious debate on Monday.
Should it be passed, CAB will become the first bill under which nationality will be granted on the basis of religion.
Numbers Game
The current strength of the Upper House is 240; the majority mark is 121. The BJP-led NDA has the support of 128 MPs. The opposition — the Congress-led UPA will count on 112 votes, including those from the Trinamool Congress and CPI-M.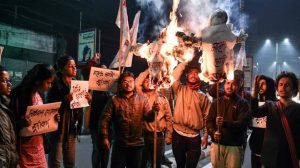 Bill of Contention
The controversial bill, criticised by the opposition for allegedly discriminating against Muslims and violating Article 14 of the Constitution, seeks to make citizens of non-Muslim refugees from Afghanistan, Pakistan and Bangladesh.
Among other provisions, the proposed law will also allow the government to cancel the registration of Overseas Citizen of India (OCI) cardholders who violate provisions of the Citizenship Act or "any other notified law".
Centre's Assurance
Tabling the bill in the Rajya Sabha, the home minister said Muslims of the country need not fear. "They are and will remain citizens of the country," he said.
Hitting out at what he called "attempts to spread misinformation", Shah clarified, "This bill is only for minority communities of neighbouring countries. It has nothing to do with Muslims in India."
Also on Wednesday, Prime Minister Narendra Modi told BJP MPs that "some parties" were speaking the same language as Pakistan on CAB. "The Citizenship Bill will be written in golden letters, it will give permanent relief to people who fled religious persecution," the PM said.
Opposition Counter
Opposing the bill, Congress's Anand Sharma said it "hurts the very soul of the Constitution of India". He said: "I am convinced this bill is an assault at the very foundation of the Constitution of India. It goes against the very preamble of the Constitution," he added.
On his part, Congress leader Rahul Gandhi has launched a scathing attack on the bill, calling it a "criminal attack on the Northeast" and an attempt by the Centre to "ethnically cleanse" the region.
Northeast Boiling
There have been widespread protests in the Northeast against CAB, both in recent weeks and in the run-up to the 2019 general election, over concerns that refugees could endanger the identity and livelihood of indigenous people.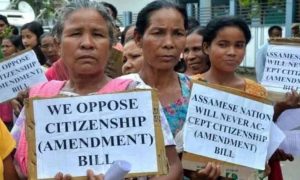 Shortly after the bill was tabled in the Rajya Sabha on Wednesday, the Tripura government imposed prohibitory orders in some parts of the state. On Tuesday, mobile internet and SMS services were blocked for a 48-hour period.
Protests also hit life in Assam, where agitators burnt tyres on arterial roads and several trains had to be cancelled due to protesters blocking the tracks.