Bhubaneswar: Chief Minister Naveen Patnaik on Wednesday announced his government's proposal to set up 36 new Adarsha Vidyalaya model schools across the state from the next academic session.
He said that 30 other Adarsha model schools will be upgraded to higher secondary level.
Speaking at the orientation programme of the principals and newly-recruited teachers, the Chief Minister said such schools are already functioning in 214 blocks of the state.
As reported earlier, the governing body of Odisha Adarsha Vidyalaya Sangathan (OVAS) had in November had cleared the decks for the opening of the 36 new schools and establishing an Adarsha model school in Bhubaneswar with hostel facilities for both boys and girls.
The advisor to the OAVS Bijaya Kumar Sahoo had earlier informed Odisha Bytes about the opening of the new school.
While model school will be opened in each of the 314 blocks in the state, Naveen said 1,75,840 rural talents will benefit by availing the opportunity of high-quality education in English. These schools are affiliated to CBSE.
On the occasion, he handed over appointed letters to 472 newly recruited teachers and felicitated nine students who had secured the highest marks in CBSE Class X exams. The CM also launched a portal dedicated to Adarsha model schools.
School and Mass Education Minister Samir Ranjan Das said the government was extending adequate fund for the infrastructure development of the schools, while Sahoo said that the teachers have been selected through a rigorous and transparent selection process.
Hailing the CM for conceptualising the Adarsha model school scheme, Sahoo said the objective of OAVS is not just to provide quality education in the state but also play a key role in spreading modern education in remote parts of the State.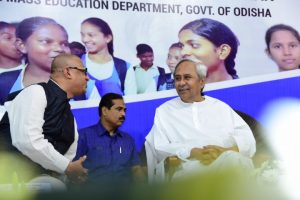 Invoking Mahatma Gandhi who had said that "basic education links the children whether of the cities or the villages, to all that is best and lasting in India", Sahoo said the model schools also seeks to integrate the students of small towns and villages with mainstream education.
"Adarsha Vidyalayas aim to promote the rural talents by inculcating the 21st century learning skills through a holistic and integral approach for their physical and aesthetic development, apart from academic fineness," he underlined.